Reading Time:
5
minutes
Some articles may include Amazon affiliate links. All proceeds go to helping us pay for original stories and to support writers of speculative fiction. Read more here.
It's not easy to be a woman in a fairy tale. Ariel must give up her voice, Beauty is forced to live in an enchanted castle against her will, Cinderella must deal with family issues, and Red Riding Hood gets eaten by a wolf. The females in fairy tales have it hard, and we don't often hear their point of view. That's why I was excited to read these fun fairy tale re-imaginings where the girls finally get their say.
Harper's life has never been easy. Her father is gone, her mother is dying, and her brother must commit crimes to keep the family going. Harper wants to help her family, but her brother underestimates her because of her cerebral palsy. This "Beauty" has had to be tough to survive, and dealing with a debilitating disease makes her that much stronger and more real to the reader.
When Harper tries to save a woman from being kidnapped on the streets of Washington D.C., she is thrown into the world of Emberfall, where Prince Rhen has been cursed to become a beast until he can get someone to fall in love with him. Rhen is not your kid's Disney Beast. When he is a beast, he is vicious and has destroyed everything and everyone around him. He soon realizes that Harper is not just another maiden to charm.
As Harper begins to understand the curse and what is at stake, perhaps there is hope for them to break it unless the forces working for the destruction Emberfall get their way. A Curse So Dark and Lonely is a Beauty and the Beast for people like me don't like Beauty and the Beast.
I am not a fan of Eastern European fairy tales, but this one drew me in and kept me turning the pages. It tells the story of Agnieszka, who lives in a village next to the Wood. The Dragon, a wizard who protects the town, takes a 17-year-old girl to live in his castle every ten years. Agnieszka has always believed that her best friend Kasia would be the one taken. The Dragon chooses Agnieszka instead due to her magical abilities, and she finds a power she never knew she had.
No, this isn't a Beauty and the Beast retelling, don't worry. It isn't a simple "girl held in a castle falls in love with her captor" story — I hate those! The story is about how Agnieszka learns, grows, and faces the increasing, relentless threat of the Wood. Agnieszka is a compelling and strong protagonist, and her magical struggles against the dark influence of the woods are exciting and hard to put down.
Novik writes magic in an emotional way that makes Agnieszka's magical abilities seem authentic to the reader. While Uprooted uses elements of fairy tales, it goes beyond them to give the reader an emotionally satisfying experience worth reading.
We all know the story of Cinderella, but have you ever wondered what her stepmother thought of the whole thing? Ever since I read — and loved — Wicked, I have been looking for novels that tell the other side of the story. In All the Ever Afters, Cinderella's "Evil" stepmother finally gets her say. And it turns out that Cinderella isn't as "perfect" as she seems, and Agnes, her stepmother, is not purely evil.
But the story isn't about Cinderella. It's the story of Agnes, who had a difficult life before marrying Cinderella's dad. Agnes was born a peasant and struggled with poverty from an early age. As Agnes grew up, she became a single mother fighting to take care of her two daughters without a husband.
Agnes deals with loneliness, exhaustion, and self-doubt, emotions that the reader can most likely relate to. She eventually marries Sir Edmont and becomes the stepmother for his daughter Ella — the future Cinderella.
Being a stepmother to the beautiful Ella isn't easy. Agnes must navigate her complicated relationship with Ella and come to terms with her new role. Then there's the fact that her stepdaughter is adored by everyone, unlike her own daughters.
This novel will entertain and engage you, and make you rethink what you thought you knew about the Cinderella story and the wicked stepmother's place in it.
Okay, I have to say, I loved The Princess Bride, so I was certainly up for reading a retelling of the story, especially one that flips the script and makes the Princess the one who saves the farm boy. It did not disappoint.
When Princes Amarande's father dies, she is given the choice of marrying a prince from a neighboring kingdom, or… well, there isn't any other choice. To force her decision, her true love, the stableboy Luca, is kidnapped.
But Amarande is no quiet Buttercup. She is a warrior, and instead of giving in, she goes to rescue Luca. Will anything stop her from finding and saving her true love? It would be inconceivable!
This novel has all the elements that made the Princess Bride such a classic- sword fights, pirates, and of course, true love. If you hate princesses that wait to be rescued and think they should do the rescuing for a change, this is the book for you.
This urban fantasy is a fast-paced retelling of the Alice in Wonderland story that grabs you from the beginning and doesn't let you go. But it's not the Wonderland you remember. And this Alice would give Buffy the Vampire Slayer a run for her money. She is a no-nonsense, cosplaying, dark-skinned girl from Atlanta.
17-year-old Alice walks in two worlds. She courageously battles monsters, called nightmares, in the dream world of Wonderland. Meanwhile, she is dealing with grief over her father's death, violence in her neighborhood, and her overprotective mother.
Nightmares attack Alice on the night her father dies. Addison Hatter, a resident of Wonderland, becomes her mentor and trains her to become a Dreamwalker and destroy the nightmares. When Addison is poisoned, Alice must venture further into Wonderland than ever before, without losing her head (literally) in the process.
I enjoyed watching Alice's transformation from a grieving teen into a still-grieving warrior while navigating the dangers of her everyday life and the monsters of Wonderland. A Blade So Black is a must-read that will make you "curiouser" to see what happens next.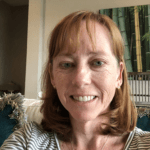 Ashley Herbert is a fantasy writer, avid reader, and mother of two. She writes freelance articles and is working on her first fantasy novel, The Crystal Finder. Visit her Facebook page to read some of her short stories, as well as excerpts from her new novel, and updates.