Reading Time:
15
minutes
Some articles may include Amazon affiliate links. All proceeds go to helping us pay for original stories and to support writers of speculative fiction. Read more here.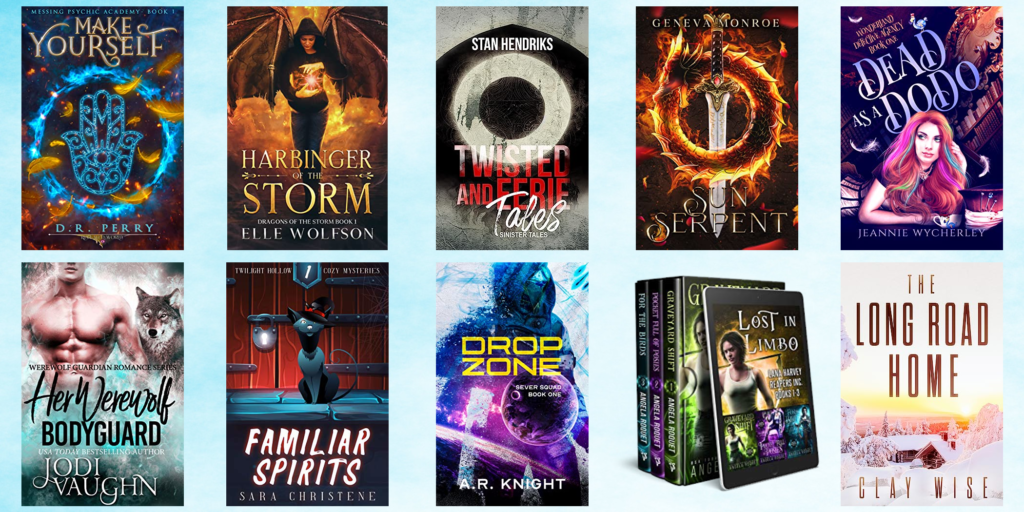 Did you know that Amazon has a list of the top-selling and free sci-fi and fantasy books? The list changes constantly — authors and publishers set their books to free temporarily to promote their work, and, of course, books move up and down in the rankings. Read on to find your fun free read for this weekend! And grab the books quickly because they don't always stay free for long.
This week's list is completely different from those of the previous weeks. So if you're a fan of free books, there are going to be new things to read all the time. If you want to get this list in your inbox every Friday afternoon, subscribe to the MetaStellar weekly newsletter.
There are a lot of books to go through, so this week I'm being helped out by a couple of other members of our MetaStellar community. If you'd like to join me in doing these reviews — and taping our regular Free Friday videos — email me at [email protected].
This is the first of nine books in the Messing Psychic Academy urban fantasy series. The other books are $3.99 each, and the entire series is in Kindle Unlimited. The ninth book isn't out yet but will be released in August and is now available for pre-order. This is the first time this author has been on our Free Friday list.
From the subtitle, I can tell that I'm not the target audience of this book — I don't like books that are set in schools. I couldn't wait to get out of school, and going back to school is not a fantasy I harbor. Sure, there have been stories set in school that I enjoyed. The Harry Potter books. The Buffy the Vampire Slayer series. But those are the exception, not the rule.
But hey, you never know.
The book starts with a prologue in which Arie, who can see into people's minds as they sleep. The prologue is packed full of information. There are extrahuman heros who saved three worlds, including Arie's own. One of those heroes is Ben, whose memories Arie is able to visit. There's a lot of backstory here. It makes me think that this is a sequel to another series.
I checked out the author's website — DRPerryAuthor.com — and I was right. The Messing Psychic Academy series is part of the Revealed World shared universe. Other series set in the same universe include the ten-book Providence Paranormal College series, the nine-book Hawthorn Academy series, and the nine-book Gallows Hill Academy Series. All are in Kindle Unlimited.
Anyway, back to the book.
Chapter one begins with that guy Arie was having psychic visions about. His name is Ben and he's recovering from an accident. A physical therapist is at his house to find out how well he's coming along. Ben was hit by a truck two months earlier and has been in a rehab center ever since. If he can demonstrate that he can get around his apartment by himself, he'll be able to stay at home, where he lives with his brother.
Oh, and he used to be a medium. Now, after the accident, he can't see ghosts any more. He's disappointed about this — being a medium has been his family's legacy for generations. But then his doctor calls. The results of his extrahuman blood test are back — and he's a summoner. Which is someone who can summon magical creatures. In fact, a weird creature shows up immediately afterwards. Glowing, like a ghost, but the wrong colors. The creature introduces itself as Arie.
I like Ben. He's not full of self-pity or teenage angst or involved in a lot of drama. Also, he's very religious — he takes his Jewish faith seriously. That's not a common thing to see in an urban fantasy novel, and the book treats his faith with respect. I'm enjoying learning about the culture and the ceremonies.
I know I said that I'm not the target audience for this book, but I might well stick with it this weekend. I love the author's writing style, and though the story starts slowly, I'm pulled in.
Get the Kindle ebook free from Amazon here.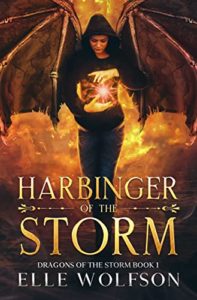 This is the first of two books in the Dragons of the Storm urban fantasy series series. The other book is $3.99, and is not in Kindle Unlimited. This is the first time this author has been on our Free Friday list.
In this world, people with supernatural abilities called the Twisted live in secret. This story follows one such Twisted, a woman named Vinnie. Her ability is to mimic the abilities of other Twisted, provided that they are in range.
The book starts with a classic heist scenario as she and her camaraderie of fellow Twisted, called the Dragons, track down a man involved in a human trafficking ring, in a crowd at a parade.
When they confront the man, it turns out he is a Twisted, too. With him discovering their faces and their names when the dragons apprehend him, they debate what to do with him, kill him or erase their memories.
This is not a black-and-white world. Vinnie struggles with the decision to have the man's memory wiped, turning him into a vegetable. While he was a sex addict and preyed on women, he also had a family, and Vinnie couldn't help but to pity him, seeing that he was both a monster and a human being at the same time.
Eventually, Vinnie will have to track down a serial killer, one that will put her found family in danger, stretching her own abilities.
I am intrigued by this world, and while I cannot say I am likely to continue reading it, I would recommend others giving it a fair chance.
Get the Kindle ebook free from Amazon here.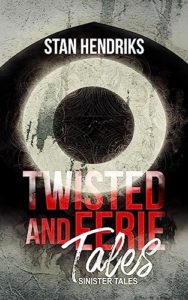 This is the second of two books in the Twisted and Eerie Tales short story collections. The other book is $0.99 but it is in Kindle Unlimited. This is the first time this author has been on our Free Friday list.
This book falls into the horror genre, and though it is not usually what I go for, I like scary stories now and then.
John and Mark are two friends in their early twenties who are horror story enthusiasts. They have been scouring online message boards for their next scare when someone tells them to go to a nearby cemetery at one in the morning. They follow the instructions and find an old man sitting on a tombstone. The old man offers to tell them a scary story if they just give him two words to get him started.
This is where I realized the book is more like a short story collection but all the stories are in-world. The old man tells them seven stories with brief interludes in between where we see our main characters. I love this idea — it seems like a very interesting format for telling a story and has a lot of potential.
Although I was excited by the format, the writing quickly disappointed me. The writing style is clunky and repetitive. The author throws in random descriptions of characters that breaks the flow and writes sentences that don't quite make sense.
I see a lot of red flags in the writing style which is a deal breaker for me, but if you don't care about that and just want a good story, you should try this book.
Get the Kindle ebook free from Amazon here.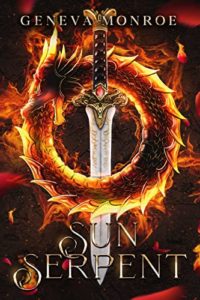 This is the first of two books in the Sun Serpent Saga of epic fantasy series. The other book is $4.99 and it is not in Kindle Unlimited. This is the first time this author has been on our Free Friday list.
I am a fan of epic fantasy, so I'm probably the target audience of this book.
We start with Callen. He's been awake all night, and now notices a shadow in his room — an assassin. Callen creates a magical blade of hard air and destroys his wardrobe and a mannequin wearing his royal parade regalia. Maybe he's just being paranoid, he thinks.
He's had centuries of training and battle experience, but his kingdom has been at peace for over a hundred years now. So he's just bored.
Plus, his father is getting old and Callen will soon have to step up and take over the crown. He's not looking forward to that.
Then the shadow reappears again and slices at Gallen with a magic dagger, then vanishes again. Callen fights a magic duel with the assassin, and discovers that the assassin is the one person he would least suspect. I'm not going to give away who, but you'll find out a couple of pages into the book.
I'm also not going to tell you if Callen survives the attack.
In the next chapter, we meet Elyria, who can also do magic. She's got enough power to burn the entire world down if left unchecked. She's never met anyone before with the same command of fire as she has, and she's been traveling with a circus troupe all around the kingdom. She suspects that she might be the last of her kind.
I like Elyria, and I like this writing style. The book starts slowly. Other than the attack on Callen — which isn't explained right away — it's not clear what the stakes are. But the world building is superb, and I love the dynamics between all the members of the troupe. I'm enjoying this book so far, and will probably stick with it this weekend.
Get the Kindle ebook free from Amazon here.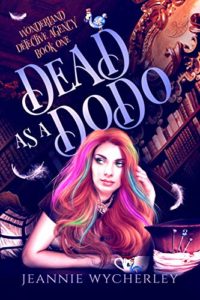 This is the first of six books in the Wonderland Detective Agency paranormal cozy mystery series. The other books are $4.99 each, but the entire series is in Kindle Unlimited. This is the first time this author has been on our Free Friday list.
Elise used to be a detective at the Ministry of Witches Police Department. She decided to opt out of the agency the moment her mentor and best-friend died while being on the field with her.
Ever since that day, she has been struggling with her alcohol intake and surviving off of fast food and take out. But everything changes the night a strange man approaches her while she drinks at a random bar at Tumble Town, one of the worst areas in the city. At first, he tried making conversation with her and ended up annoying her, but the second time he came to her he was asking for help.
The Wizard Dodo had been murdered and he needed someone to investigate what happened.
Yet the moment she called the cops for help, he bolted, proving that maybe he's got something to hide—just like everyone else in that part of town. When her ex-coworkers get there, they basically tell her to stay away from the case and get her life together so she can rejoin the force since she's still young, but it looks like she's got other plans.
I really enjoyed everything about this book. I love how fun the cozy and magical murder mystery sounds, I really enjoyed the writing style and the pace of the story, and I definitely can't wait to continue reading this! Need to know more about why that strange man approached her in the first place and why it looks like he's trying to run away from something…or someone.
Get the Kindle ebook free from Amazon here.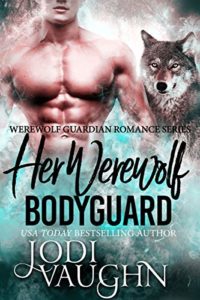 This is the first of eight books in the Werewolf Guardian Romance Series of paranormal romance. The other books are $2.99 to $6.99 each, and the series is not in Kindle Unlimited. This author has been on our list before. We previously reviewed her book Lipstick and Lies and Deadly Goodbyes , the first of four books in The Vampire Housewife Series of cozy vampire mysteries, back in October of 2021.
I am not the target reader for this book. I generally don't like books with naked male chests on the cover. Or mushy romantic stuff, for that matter. I have a cold, cold soul.
But hey, you never know. Maybe the wolf will tear that guy apart then set off on an adventure around the galaxy. Givieng the title of the book, that's probably a stretch… but hey, you never know!
Anyway, we start the book with Damon, standing next to his Harley-Davidson motorcycle, outside a seedy bar. The bar is a known hangout for lone wolves who have no respect for wolf law, and Damon is looking for a suspect, another werewolf who's risking outing the shifters to the world for easy drug money. The US government knows about the existence of werewolves, and use them in the military, but the general population is completely clueless.
Damon is a member of the Guardians, an elite group of werewolf soldiers.  He's happy to be there — his previous pack had thrown him out, and he feels like he's found his new home.
Just as he's about to catch the guy he's after, he gets a call from his boss. An emergency assignment. A female member of their pack has been kidnapped.
In the next chapter, we switch to point of view of the kidnapped female, Ava. She's been drugged, and brought to a warehouse. Her kidnappers want to her to have sex with 45 men and bear their children. Apparently, there's a shortage of female werewolves in this world.
Then we're back with Damon. He's on his bike, racing to rescue her. He's got her pajamas, so he can follow her scent. He himself is covered with camouflage spray, so that the bad guys can't smell the Guardians on him, but he's only got an hour before the spray wears off.
As he gets close to the bad guys, he discovers they're red wolves, long thought to be extinct in the area because they were so savage that they killed each other off.
They buy his story, and suggest that he join the pack — and tempt him with Ava.
You know what, this is actually a pretty good beginning. I'm pulled into the story. I want to see how he rescues her, and what happens after. Will I keep reading? I don't know. If I have time this weekend, I might come back to it.
Get the Kindle ebook free from Amazon here.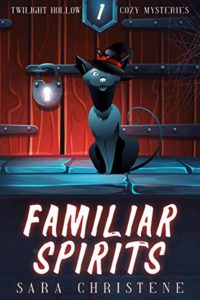 This is the first of seven books in the Twilight Hollow Witchy Cozy Mysteries, a paranormal cozy mystery series. The other books are $2.99 to $3.99 each, and the series is not in Kindle Unlimited. This is the first time this author has been on our Free Friday list.
I love cozy magical mysteries, so this is exactly my kind of book.
We start out at the Toasty Bean cafe in a small town called Twilight Hollow, in the state of Washington.
Adelaide is the owner, and she lives just four blocks away. Well, it's a small town. Everybody lives just four blocks away. She closes up the cafe and heads home, carrying a stack of books under her arm. So far, she seems to have the perfect life. While walking, she comes across a stray cat, which she picks up, then, still carrying the books and the cat, she stumbles across a dead body. She drops the books — but keeps hold of the cat, and calls the cops.
Then a hot homicide detectives shows up. Of course he does.
The next day, her sister comes over, bringing cat food for the kitty and wine for Adelaide. Both of the sisters are witches, though Adelaide isn't very good at it yet. That's why she was carrying all those books — she's studying magic.
But her sister is very good at magic. And she tells Adelaide that she's the one who's going to solve the murder.
I'm in. This book is now at the top of my reading list for this weekend.
Get the Kindle ebook free from Amazon here.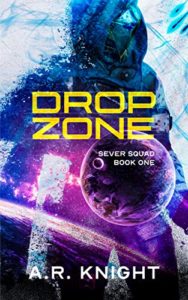 This is the first of seven books in the Sever Squad sci-fi action series. The other books are $2.99 each, and the series is not in Kindle Unlimited. This author has been on our Free Friday list before. We previously reviewed The Farthest Star , the first of three books in The Far Horizons science fiction adventure series, this past April.
This is a science fiction work set in a compelling world and populated by compelling characters. And honestly, who doesn't want to read a book about space commandos working for an interstellar private security company?
The book starts with a knockout. Literally. The story begins with Sever Squad's commander knocking a guy's lights out for the crime of mispronouncing her name. Is that's not a badass way to introduce a character than what is?
We get insight into all the members of Sever Squad — who they are and what they value. Family, solitude, being the scariest person in the room at any given time, and so on. It's an average day in the squad's life. New day, new mission.
That new mission is straightforward: land on a backwater planet, rescue a client, and earn that sweet, sweet money.
What could possibly go wrong?
Do you want an answer to that question? I'll let you know when I'm finished reading.
It is an action-adventure type of book set across different worlds or planets.
The book begins when a squad is tasked with a rescue mission.
The commander, Aurora, is told there is no extraction like there usually would be. This is quite effective at drawing the reader in — it creates an uncertain atmosphere where we are thinking, "Why is there no extraction? What is different to the previous tasks and this one? Will the characters come out alive?" And because it is set in a different world, one unknown to us, it raises the question of "What is there and what are the dangers?"
I read the first three chapters, each of which shifts to a different character's point of view.
The chapters are short, introducing the members of the squad, each with their own unique personality. For example, chapter two is titled "Demolition Man" and introduces a character who seems to be responsible for producing the formulas for bombs.
While this is great and shows the different qualities each character brings to the team, the book seems choppy, and it can be confusing when the focus is continuously shifting between characters and makes it difficult to focus on the story being told.
I wonder going forward how effectively the writer can show character development or if the reader is truly able to connect with any of the characters with the shifting point of view. I also think this could potentially slow the story down.
It does seem like the book features a lot of action and adventure, so would be worth a read for those who are interested in this.
For me personally, I don't feel compelled to continue with it just because of how choppy it is. I have to really focus to understand what is actually happening.
Get the Kindle ebook free from Amazon here.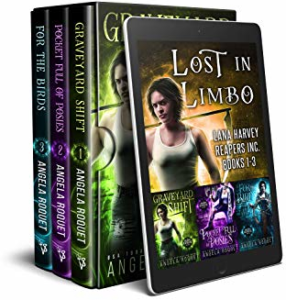 This is a box set of the first three books in the seven-book Lana Harvey, Reapers Inc. urban fantasy series. The other books are $3.99 each, and the series is not in Kindle Unlimited. This is the first time this author has been on our Free Friday list.
I love urban fantasy and I especially love female protagonists who look like they could kick some ass. Judging by this book cover, we're going to get some ass-kicking in this one.
The book starts out with a funeral. The guest of honor is there, too, gloating that he'd destroyed his money, his car and his house so that his cheating widow wouldn't get any of it.
Lana is there too. She's a grim reaper, and she's there to take the dead guy to wherever he goes next. In this case, it's Limbo, where her ship is waiting for her. She's got twelve souls to take to Heaven, eight to Nirvana, and four to Summerland. She'd bought the boat off a demon. Her latest charge is a suicide, so he doesn't get to go to Heaven, but Lana thinks she can get him into Nirvana, so he can have a nice break before he's reborn again.
Her business partner, another grim reaper, is pissed at her. Redirecting souls without authorization can get them both in trouble. Plus, they're transporting a drunk archangel to make money on the side.
I love the world building here. I love the characters. I'm sticking with this book.
Get the Kindle ebook free from Amazon here.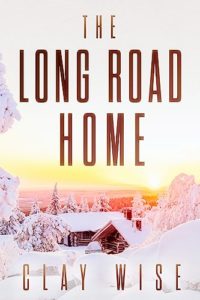 This is a standalone book of EMP survival. Clay Wise is a regular on our Free Friday list. We previously reviewed several of his EMP books. This past May, we reviewed Safe Passage: The Road Ahead, the fourth and latest book in the Safe Passage series. We also reviewed the first book in January of last year and the second book, Safe Passage: Off the Grid, last May. All the books are in Kindle Unlimited. The author has several other similar books on Amazon<, two of which have also made our top ten list: White Out, which we reviewed in November of 2021, Seeking Shelter, which we reviewed in September of 2021, and The Homestead, which we reviewed back in July of 2021.
Out of all the EMP books I've reviewed, this one has my favorite beginning out of all of them.
An EMP — electromagnetic pulse — is an event caused by a nuclear weapon, or a solar flare or another natural occurrence, or by an EMP generator. It kills all electronics but leaves everything else unharmed, including people, animals, plants and buildings.
I read the first two action-packed chapters and I definitely want to keep going to see what happens.
In chapter one, Lydia is flying in a small Cessna airplane with her father. I think he's giving her a flying lesson. Suddenly the EMP hits and all their power goes out. A nearby passenger jet that's also lost power almost smashes into them as it crashes nearby. Lydia and her dad have to make an emergency landing in a field.
In chapter two, we find out that Lydia's dad is fatally wounded in the crash. He tells her to grab the bow, gun and first aid kit that are in the plane and to go look for help. She watches her dad die and sets off on her journey.
This one had a great action-packed start and definitely took a different approach then any other EMP book I've read. It's the first that started with a plane crash involving a main character. Fun read.
Get the Kindle ebook free from Amazon here.
---
See all the Free Friday posts here. Do you have other free books for us to check out? Comment below or email me at [email protected].
Have you read any of these books? Are you planning to? Let us know in the comments!
And watch Terrence and Maria discuss all ten books in the video below: