Reading Time:
7
minutes
Some articles may include Amazon affiliate links. All proceeds go to helping us pay for original stories and to support writers of speculative fiction. Read more here.
In a recent interview for the MetaStellar YouTube channel, best-selling science fiction author Steven Barnes said that the secret to a successful writing career is to start out by writing short stories — and that you should be reading ten times as many stories as you write.
That can add up pretty quickly. And if you're a starving writer, you might not have all that much money to spend.
If you're in that position — or if you just like reading free short stories — then check out your local library, or its e-book app, such as Overdrive.
Or pick up one of these books right now from Amazon: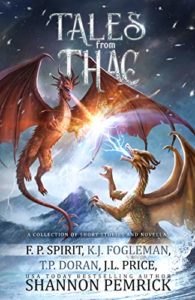 Includes short stories and novellas by F. P. Spirit, Shannon Pemrick, Kathryn Fogleman, Timothy P. Doran, and Jeffrey L. Price.
This book is normally $13, so this grab a copy while the promotion lasts.
From the book description:
Dragons, pirates, magic and deceit. Thac is no place for the faint of heart…
Grand Choosing: Kortiama longs to prove herself at the Day of Choosing. Yet that day will hold more for her than she ever bargained for, if she manages to survive.
Price of Honor: Seishin never expected to fall in love, nor that his love would hold a dark secret. The Pirate Coast is a dangerous place, one which might hold the key to his future, if it doesn't kill him first.
Art of the Steal: Where did the enigmatic Donatello come from? Where did he learn to be a thief, artist, and swordsman? Who is the mysterious woman who broke his heart?
Fortune Tellers: Fran was not always blind, nor was she always a druid. It all came down to a fateful day and a run in with a certain blonde-haired, violet-eyed fortune teller.
Battle of Fish Eye Cove: Outnumbered two to one, Ves and Ruka engage in a desperate battle with a flight of evil dragons. Can the two dragon girls escape their deadly fate?
These and other thrilling tales are included here in this fantastic anthology from the world of Thac.
This collection of sci-fi, fantasy, steampunk and horror includes stories by C.G. Hatton, A.L. Buxton, Craig Hallam, Mark Hayes, Kate Baucherel, Peter James Martin, Graeme Wilkinson, Amy Wilson, J.L. Walton, and Joseph Carrab.
There are eight books total in the Harvey Duckman Presents series. The rest cost money, but all except the fifth one are in Kindle Unlimited, so check them out.
The first story is about a video game reviewer, testing out a game similar to The Sims, when one of the AI-powered characters in the game asks for help.
Nice writing style, quick read, and reminded me of the movie Free Guy with Ryan Reynolds, which I just saw.
I loved it! Both the movie, and the short story.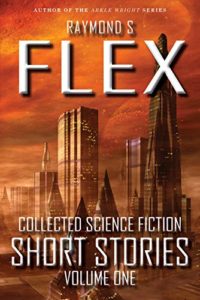 This is the first in a series of six books, Collected Science Fiction Short Stories, but only the first is free.
This collection of stories includes aliens; more than one parallel world; a manic, entertainment-driven civilization, and an automated hotel with a life-changing secret.
It's one of the 20 best-selling books in the free science fiction anthology category bestseller list on Amazon.
The writing is brisk and pulls you in, though I'm a little confused about what the first story, about a guy checking into a hotel, was actually about.
But the second one starts right in with a space ship exploring the deep recesses of space.
That's more like it.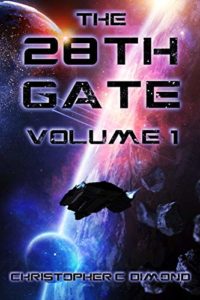 This is a collection of novellas set in the 28th Gate universe, and has hundreds of great reviews. The other volumes do cost money, though, and are not in Kindle Unlimited.
It starts out great, with a contract bounty hunter with a starship-grade particle cannon that he can carry in one hand. He usually keeps it in a holster, though.
The guy is trying to avoid getting noticed by a mega corporation, taking on freelance hauling jobs on out-of-the-way worlds, when he gets a new job offer, to track down an employee of a smaller local company who's stolen some proprietary information.
But really, they're hiring him to track down the thief and kill him.
But the guy has standards. He doesn't mind finding people. And he doesn't mind killing people. Just not as part of the same job. But also, he doesn't like the corporate guys making the job offer.
I like the writing and the characters. It has some strong "Firefly" vibes.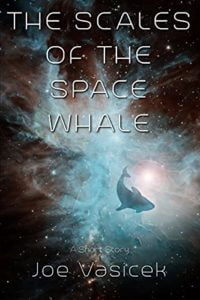 Joe Vasicek has five stories up on Amazon in his short story singles series. All came out this year, and have good reviews — and gorgeous covers.
I'm picking them all up while they're still free.
I like the author's writing style. It has very much of classic hard sci-fi feel.
The first story was  fun — I'm looking forward to reading the others.
Other e-books in this series include The End of Elysium, Payday, The Paradox of Choice, and The Manchurian Paradox.
That last one is currently the second book in the free science fiction anthology category bestseller list on Amazon and the others are up on the list as well.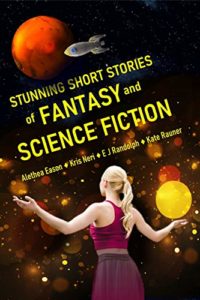 This collection includes stories from four award winning authors: Kate Rauner, Alethea Eason, Kris Neri, E J Randolph.
The book is currently in ninth place on the free science fiction anthology category bestseller list on Amazon.
From the book description:
A deadly secret lurks in idyllic fields of flax.
Chatting with the dead, even when you're a fraud, can't end well on Friday the 13th.
A blue trunk-nosed alien sniffs out the truth behind a smuggler's delivery.
Mining Jupiter's storms leads to an unexpected discovery.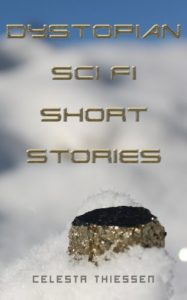 I'm not a fan of dystopian sci-fi, but free is free, right?
So I grabbed my copy before it returns to its regular price.
Here's a blurb from the book's official description, about the short story "Fool's Gold":
On the planet of Fool's Gold, where the men greatly outnumber the women, men compete in the games for a chance to win an heir. Trenton, a genetic accident who was supposed to be born female, is excluded from the games and regarded as worthless. But that's not how Kate sees things. She wants happily ever after with him, no matter what the queen says. With the help of Abigail, Trenton's sister, and one of the older men in the colony, they plan an escape. When unexpected circumstances arise, will their faith and determination be enough to carry them to freedom?
A few other sci-fi short story collections that are currently free: