Reading Time:
3
minutes
Some articles may include Amazon affiliate links. All proceeds go to helping us pay for original stories and to support writers of speculative fiction. Read more here.
It's a rare treat to see a mature author return to their earlier work, but that's just what we have with Shadow Speaker The Desert Magician's Duology: Book One by Nnedi Okorafor. Originally published in 2007 and since gone out of print, the new edition from DAW is revised with a new forward from Okorafor. For those not yet aware, Okorafor is a leading voice in Afrofuturism: her 2015 novella Binti won the Hugo, Nebula, and Nommo awards in its category, and her 2010 novel Who Fears Death won the World Fantasy Award, the Carl Brandon Kindred Award, and was nominated for the Nebula and Locus Awards. If you haven't yet devoured Nnedi Okorafor's oeuvre, you have a rich feast ahead of you.
Shadow Speaker showcases many of the hallmarks of Okorafor's later work: her protagonist is a young African girl navigating a post-apocalyptic world and trying to get a grip on her mystical powers, with strong themes of coming-of-age and striving against a world whose structure seems predisposed to injustice and violence.
Specific to Shadow Speaker, Earth has undergone a massive shift as a result of a global war when both atomic weapons and Peace Bombs, which caused a 'green-tinted wave' to wash over the whole world, bringing 'the great change' with it. Since then, doors have opened into other worlds, the laws of physics have gotten a lot more flexible, 'spontaneous forests' appear all over the place, and some people have been born as 'meta-humans' with various supernatural powers. Ejii Ugabe is our titular Shadow Speaker, meaning she was born with the supernatural ability to listen to shadows' whispers to gain knowledge about the world and other people. Her powers develop at a staggering rate over the course of the book, as she tries to figure out how she can use them to guide the newly joined worlds, already on the brink of war, to peace. She's a ferocious, angry, violent pacifist, which is a terrific dichotomy for a protagonist to labor under.
Ejii is only the lead on a very strong cast of characters: there is Dikéogu, the escaped child slave she meets in the desert where a sentient storm is trying to kill him; Jaa, who killed Ejii's father and invites her to be her apprentice; the Yellow Woman and her twenty children; Onion the camel (my personal favorite); and last but not least, the Desert Magician, the narrator of the novel's framing device and force of chaos in the story itself.
The world they inhabit is beautifully realized, full of magic both understood and not (did I mention that Onion the camel can speak?) and gorgeous descriptions of cities and natural landscapes alike, especially the transformed Sahara and the rainforest-like Ginen with its tree-buildings and horrible purple-clad chief. 
So, I think it's clear that I'm a fan, both of Okorafor's work generally and this book in specific. But fair is fair: do I have any reservations? A couple, yes. I mentioned the frame narrative above, told from the perspective of the Desert Magician, but to tell you the truth, I had forgotten about it until I went back to check something else to write this. It's only used in the prologue, though the Desert Magician does appear as a character later on, so I have to assume it's going to feature more in the second volume of the duology. Speaking of that, my second minor gripe is that Shadow Speaker feels remarkably complete for what is billed as half of an overarching story. I mean, I can definitely see the direction the second book, Like Thunder, will take, and there are still loose threads hanging out, but they're threads, not half the tapestry. Although, there's also a positive spin on that: Shadow Speaker will be satisfying whether you end up reading the second volume or not.
All in all, Shadow Speaker is a very worthwhile read. The world is engaging, the characters are, quite frankly, awesome, and whether you read the complete duology or not, you'll come away satisfied. And, if this is your introduction to Okorafor's work, then welcome. I know you'll enjoy what you find.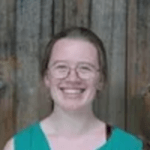 Sophie is an MFA student at Emerson College. She spends her free time reading and writing science fiction and fantasy.