Reading Time:
2
minutes
Some articles may include Amazon affiliate links. All proceeds go to helping us pay for original stories and to support writers of speculative fiction. Read more here.
The U. S. Postal Service announced its new lineup of stamps for 2021, and sci-fi legend Ursula K. Le Guin is the latest addition to the Literary Arts series.
Le Guin, who died in 2018, is best known for her novels A Wizard of Earthsea, published in 1968, and The Left Hand of Darkness, which came out in 1969. She has written more than 20 novels and over 100 short stories, as well as poetry, literary criticism, and children's books.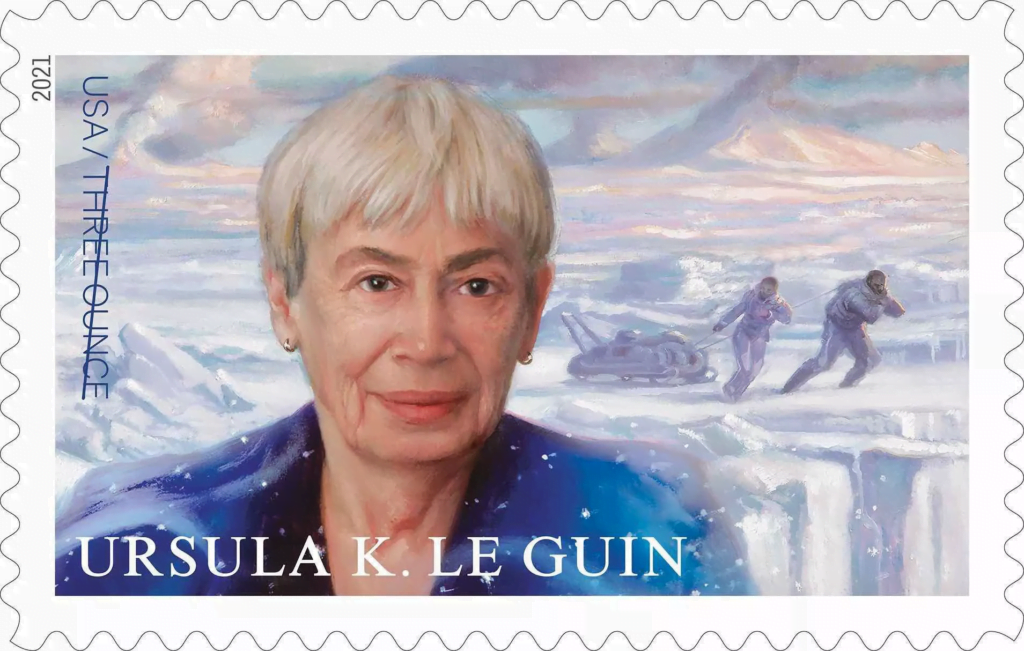 She was the first woman to win both the Hugo and the Nebula awards for best novel. In 2003, she became the second woman honored as a Grand Master of the Science Fiction and Fantasy Writers of America and the U.S. Library of Congress named her a Living Legend in 2000 — and again in 2014.
The new stamp features a portrait of Le Guin based on a 2006 photograph, with the background being a scene from "The Left Hand of Darkness," in which an envoy from Earth named Genly Ai escapes from a prison camp across the wintry planet of Gethen with Estraven, a disgraced Gethenian politician. The artist for this stamp was Donato Giancola. The art director was Antonio Alcalá.
The stamp has the words "three ounce" on it, meaning that even if postage prices change, this stamp will always be valid to send a letter of up to three ounces, similar to a "Forever" stamp.