Reading Time:
6
minutes
I know who killed Natalie Roane. She told me, and begged me never to mention his name to another living soul. At first, I didn't understand why a woman that had been murdered before I was born told me who killed her, and pleaded that I keep it secret. I learned why later.
***
Mercury Community College let me work nights cleaning in Colson Hall to help pay nursing program tuition. Colson Hall, an old brick building from the 1940s, had once been a basketball gym. The hall sat unused for years. When I was in middle school the college renovated it, tearing out stands and putting in classrooms on two levels that horseshoed around the old gym's hardwood floor, where five 3D printers sat. The printers were industrial-size, big as delivery trucks, with runs of hoses and cables overhead, all silent at night when gym lighting was dark and the printer floor was awash in the soft glow of light as I moved from classroom to classroom.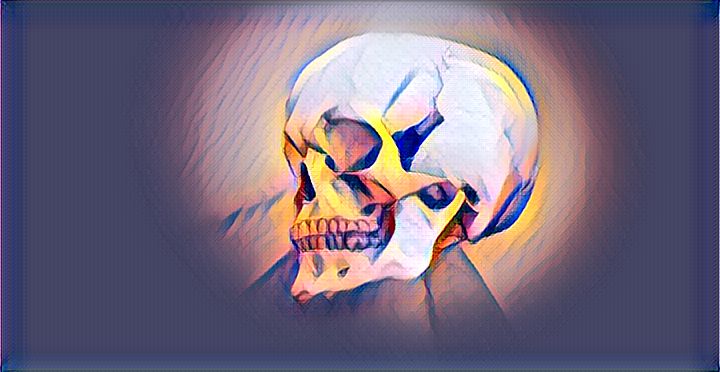 I was wiping down desks in a second floor classroom when one of the printers started, its pumps sighing as they drew in material through hoses. I ventured out on to the walkway, gripped the same iron railing that had been there back when the hall was a gym, and watched the machine at work. Its touchscreen blazed with colorful icons on a blue background, alternating with the image of a human jaw every few seconds. I was sure it was a jaw — it matched what I'd seen in anatomy classes. After the jaw, it began working on more, mostly thin, flat, curved pieces.
This is the last thing I need. I thought as I went back to cleaning. All I needed was for someone to find the jaw and whatever else that machine was printing, and accuse me of cheating. That was why, after I took bags of trash to dumpsters outside and wheeled the cleaning cart into a narrow room, I hustled everything the printer had made into my backpack, cleaned the inside of the machine as best I could, and hurried past the college's security guard to get home.
***
Mom often said hindsight and rear-view mirrors were the same: both teased you with things you couldn't go back to. I never really understood what she meant until I unloaded my backpack on my bedroom floor and started clicking pieces the printer had made together — each had tiny pins and holes along their edges so they joined together easily. As they formed into a replica of a human skull, I couldn't help but feel like my life before I'd pulled pieces out of the printer was something I'd never be able to go back to, not even if I drove a million miles away from Mercury.
***
"Super cool, Ash!" my best friend Katelyn enthused when I showed her the skull. "You made it yourself?"
I shook my head, and told her about the printer in Colson Hall, and how I hurried home with what it made in my backpack.
"You should've left it there," Katelyn said.
"I didn't though."
"Somebody's pranking you. Maybe some guy's crushing hard over you."
I blushed. "Unlikely."
Katelyn grinned. "I've got an idea."
***
Katelyn was taking art classes. Some said she should've majored in computer science because she was a tech whiz. We used our student badges, and a limp I faked, to get Katelyn past the security guard and into Colson Hall.
"She's helping me out," I told the guard, who nodded and went back to whatever he was live-streaming on a laptop. Once inside, Katelyn wasted no time. She went to work cycling through options on the touchscreen bolted on one side of the printer.
"Looking for files," she explained. "Ideally .stl files, or anything that can tell me what the machine's printed. There's a lot. If you're cool with it I can download copies to a thumb drive and go through them."
"Sure," I said, as I headed off to grab my cleaning cart. "If it helps us figure this out."
***
Every file Katelyn downloaded was a student project, basic shapes from entry-level classes to the complex mechanical assemblies of upper-level course capstones. None matched parts that interlocked to form the skull in my bedroom. Katelyn wasn't ready to give up. She came over the next day with modelling clay and a newspaper.
"What's all this?" I asked.
"The newspaper's to keep your mom from bitching about clay in the carpet. The clay? We're going to roll it into thin sheets and put them on your skull. Maybe it looks like somebody."
I thought it was a weird idea, but helped Katelyn spread newspaper out over carpet and then we worked the clay into thin patches. Katelyn smoothed them one by one on to the skull's cranium, face, and jaw, gradually drawing out Natalie Roane's features in grey. Like everyone in Mercury, we'd seen Natalie's picture before — her murder in the autumn of 1997 was a local legend. As Katelyn finished work on the eyes, I couldn't help but notice Natalie's picture in the newspaper on my bedroom floor.
"Kinda weird, huh," Katelyn said, studying the skull, transformed into a bald, grey replica of Natalie's head.
I nodded and read an article from the newspaper on the floor out loud. "Donald Wagner, who has maintained his innocence in Roane's murder and decapitation, remains scheduled to die by lethal injection on November 15. Mercury mayor Alan Colson said he hopes Wagner's execution will give people a sense of closure."
"Three weeks from now," Katelyn mumbled.
***
I kept the clay on Natalie's head, wrapped it in towels, and placed it on a shelf in my closet. Two nights later, I brought it out after work and unwrapped it on the same pink and white desk I'd used since I was fourteen. Natalie's eyes — Katelyn left them blank like those in ancient Roman statues — were mesmerising. They drew me in. Her lips never moved, but I could hear her voice as clear as the mournful cry and lonesome clatter of the two a.m. freight train when she spoke.
Natalie told me how she'd gone to Mercury High's homecoming game with Donnie Wagner, who spiked his concession booth soda with whiskey from a flask hidden in his jacket. The whiskey and a losing score soured Donnie's mood. "That's how Donnie was," Natalie remembered, "rough around the edges. Nasty temper. We got into an argument and I walked. I left him sitting alone in the stands in the third quarter."
When did you see him next? I wanted to know.
"That was the last I saw of Donnie," Natalie recalled. "I was going to walk the three miles from Mercury High back home. Alan Colson caught up with me and offered me a ride. I was dumb enough to say yes."
What happened?
"He took me to the old gym behind the community college. It was boarded up, hadn't been used since 1983. He told me how his family, the Colson's always had money, were going to give the college a grant to do something with the gym one day. I told him I needed to get home, but he said he knew of a way to get inside."
That's where it happened?
"Alan fished a flashlight out from his trunk and I followed him in there through a little window that led into the locker rooms. He was nice at first, showing me the old basketball court and concessions stand. Then he sat the flashlight down and tried to have his way with me. I pushed him hard into a wall. He shoved back. I pushed him into the wall again. That's when he started choking me and didn't stop."
Alan Colson killed you?
"Yes. But don't ever say a word about it to another, or he'll come after you too," Natalie warned.
***
I spent three days wondering if hearing Natalie's story had been real. If it was, that meant the state was going to execute an innocent man while her killer, the mayor of Mercury, lived on. I thought about writing an anonymous letter to somebody — governor, police, TV, anybody — but instead, broke down and told Katelyn what I knew late one afternoon downtown.
"I dunno, Ash. I mean, paranormal stuff is cool and all, but this?"
"I think we should do something," I begged.
"I don't know what we can do," Katelyn said.
"Please. We can't let an innocent man die. If we do, we're just as guilty."
"I'll try and think of something," Katelyn decided as we crossed the street, in view of city hall, where light inside an upstairs window cast the silhouette of a man on pale blinds. Fingers parted the blinds enough for me to see harsh, glaring eyes — Alan Colson's eyes, bearing down, disquieting my soul.
Katelyn noticed.
"Are you okay, Ash?"
"Whatever we do, we've got to do it fast."
This story first appeared in Antipodean SF, March 2023.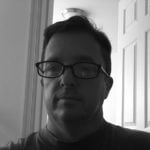 Andrew writes science-fiction and fantasy from the state of Maryland, often drawing ideas from jogs through forest trails at sunrise. His work has previously appeared in AntipodeanSF, 365 Tomorrows, Daily Science Fiction, Penumbric Speculative Fiction, and in MetaStellar as reprints and MetaStellar Anthhology – his work has also short-listed in several writing contests. Andrew welcomes reader feedback at [email protected].