Reading Time:
12
minutes
Some articles may include Amazon affiliate links. All proceeds go to helping us pay for original stories and to support writers of speculative fiction. Read more here.
If you're a writer who needs illustrations for their blog, social media posts, for short story covers — or even for book covers, if you're ambitious — then Midjourney is the gold standard. However, after the first few 25 images, you have to switch to one of the paid plans, which range from $10 to $60 a month.
If you do decide to go with Midjourney because the images are really, really good, I recommend the $30 a month plan, which, in "/relax" mode, gives you unlimited images every month. That's the one I use, and you can read all about my experience with Midjourney here.
But, besides the price, there are other downsides to Midjourney. If you're a beginner, its Discord-based user interface is a nightmare. If you're an advanced user, then you'll notice that it's missing inpainting and outpainting functionality and won't let you train your own model. Inpainting and outpainting is where the AI will create new parts of an image, either to replace parts you don't like, or to expand the image beyond its existing borders.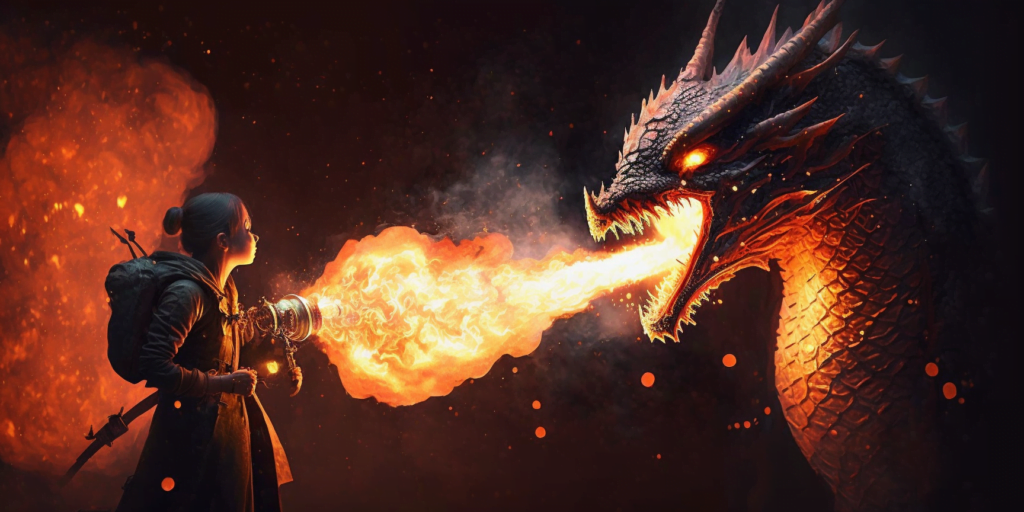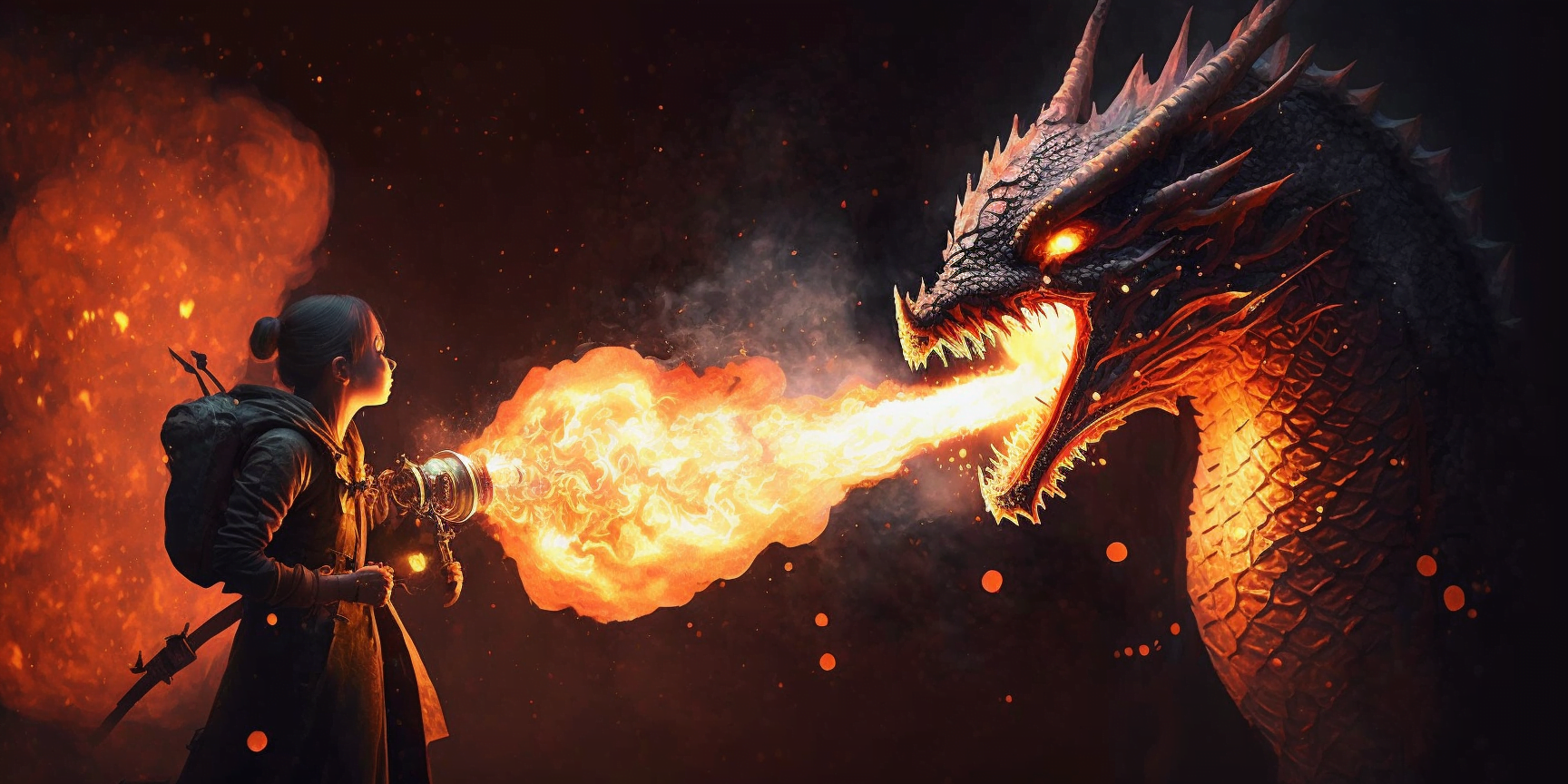 So here are free easy-to-use alternatives to Midjourney, some of which even have features it's missing.
I'm going to use the same three simple prompts with each one — "spaceship," "beautiful female warrior," and "dragon" — and show the you first images I get from these apps.
I'm also going to make each image square, since that's the typical default size.
The Midjourney images are below. The largest size is 1,024 by 1,024. Click on the image to see the full size.
Midjourney Pros: Hands-down the best images on the planet.
Midjourney Cons: The Discord server is difficult to use. Also, while it can create a beautiful picture, getting it to create the actual picture that you want can be a struggle. There are whole YouTube channels dedicated to wrangling Midjourney. And, of course, it costs money.
Click on one of the images below to see it in full size.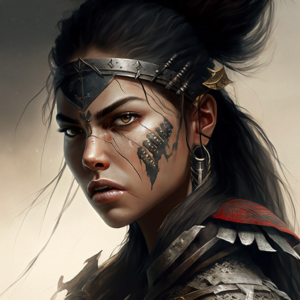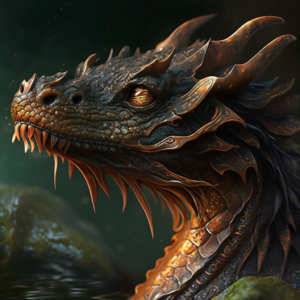 Now that we've seen what we're up against, let's get to the top five free alternatives.
This app has gorgeous images — almost as good-looking as Midjourney, without having to create a mile-long prompt.
There are also nine different aspect ratios and the ability to specify what you don't want to see in the image. And the size of the images? A whopping 2,560 pixels square.
The downside is that you only get 100 images a month. That might be enough, if you just do a couple of blog articles or a handful of social media posts. But if you're creating a book cover, you'll go through those 100 images pretty quickly.
I have to say though, if I didn't have Midjourney — or finally got fed up with its annoying Discord interface — this would be the app that I would pay for. The $8 plan gives you 1,000 images a month, which should be more than enough for anyone who isn't a professional artist.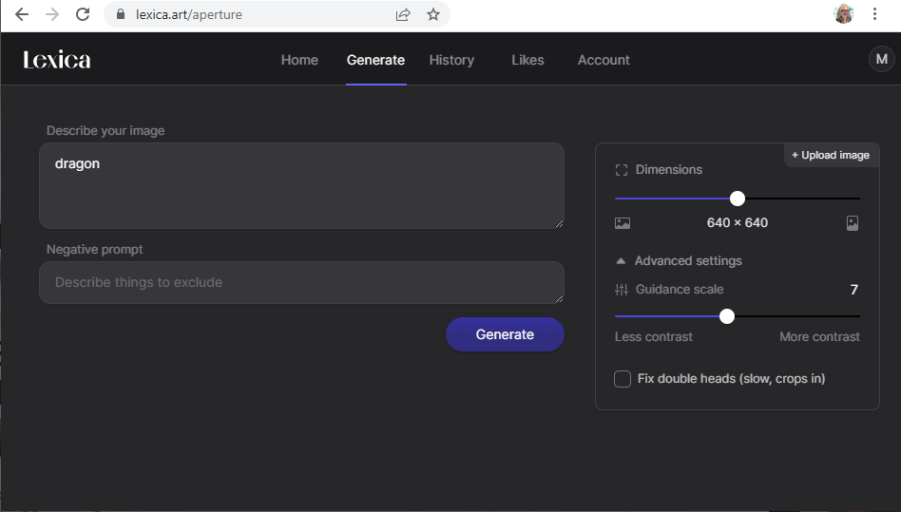 Pros: Easy interface, gorgeous images, lots of aspect ratios, and images that are 2,560 pixels square.
Cons: Only 100 images a month. So use them wisely. Also, no advanced functionality like some of the other platforms have.
If you only need a handful of very good-looking images a month, start here.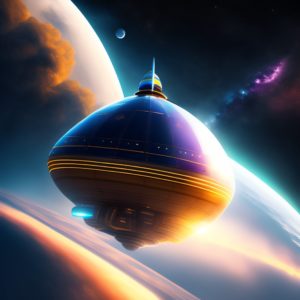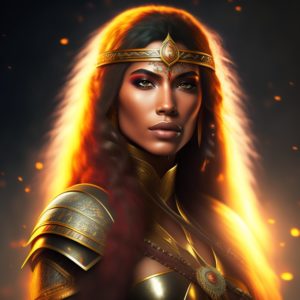 If you're already using Canva to create book covers, social media posts, or blog illustrations then you're in luck. The platform now has a free, built-in AI art generator.
Just open up whatever project you're working on, then, in the left-hand panel, click on "Apps." Look for "Text to Image" on the list or via the search bar.
No, I didn't know it was there either, until I heard someone talking about it on YouTube — and I use Canva almost daily.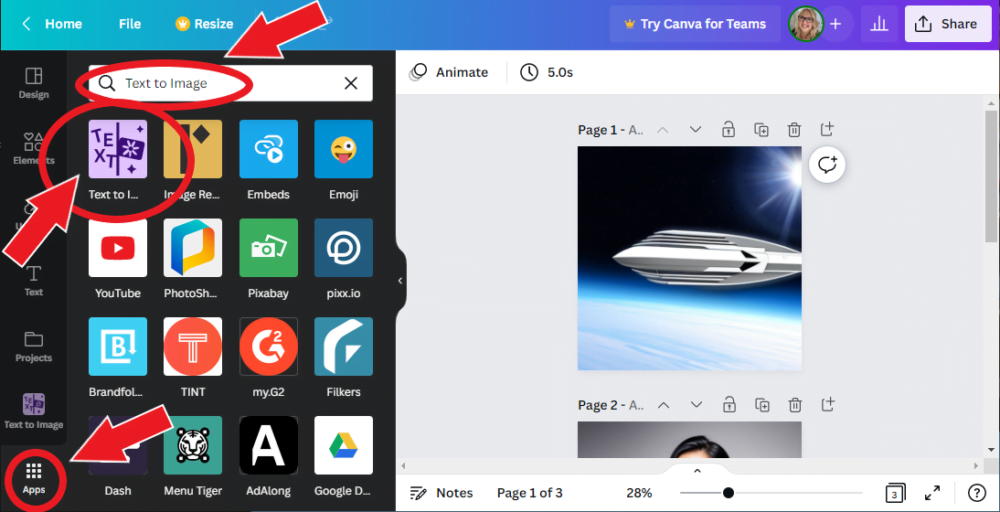 Canva's Text to Image tool gives you a choice of six styles — concept art, photo, painting, drawing, 3D, and pattern — and three aspect ratios — square, wide, and tall.
Unfortunately, it seems to be using the base Stable Diffusion platform, without any of the recent enhancements that some of the other platforms have added to make the images look better. But, since it's Canva, I'm going to guess that they'll be improving the tool, since they're constantly adding new features and improvements throughout the platform.
You get four images per generation, and each generation takes a few seconds.
It's not too bad, but it's no Midjourney or Lexica. You'll have to do some serious prompt engineering to get good images here.
Pros: If you already use Canva, this one is a no-brainer. Oh, and it's completely free.
Cons: The images don't look all that great and are only 864 pixels square. You'll have to download them and upload them to an AI upscaling app like Upscale Media to use them for print projects to keep them from looking too pixelated.
If you're already using Canva, and want an easy illustration to use in your marketing content, this is the tool for you.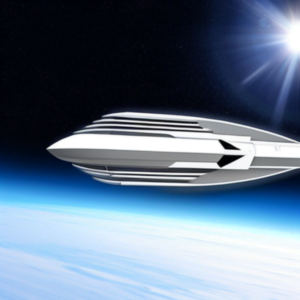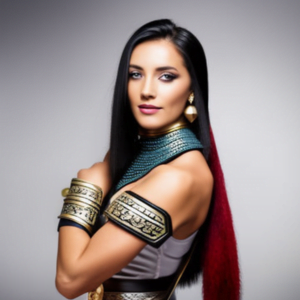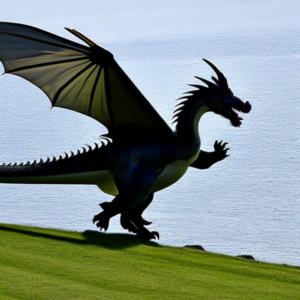 One thousand free images per day. Free upscaling to 2,048 pixels square. Tons of customization options and advanced features, including quality and guidance scales, seed numbers, dozens of pre-built filters, image-to-image generation, and ability to specify what to exclude from the image. And inpainting — that's where you run an eraser across a part of the image and tell it what to put in there instead.
It also has a full-picture edit.  That's where you take a picture you've generated — or uploaded — and say something like, "make the dress red instead of blue" or "make it a sunny day" or "add snow." It's awesome.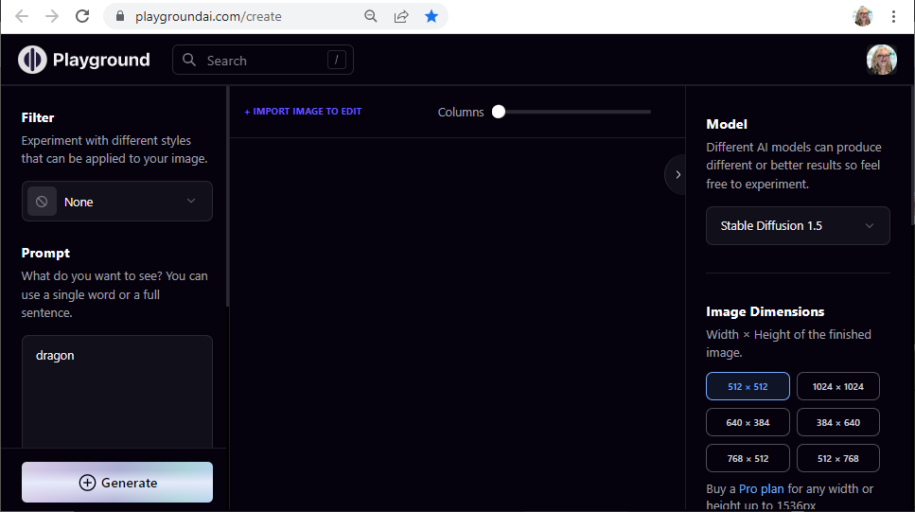 Pros: 1,000 free images per day, big image sizes, lots of style presets. And in-painting!
Cons: First, you have to play around with the image styles to get them to look good. But other than that, my only other quibble is that doesn't — yet — have "zoom out" functionality, aka, outpainting. For example, I might want to have the entire dragon pictured below inside the frame, plus more of the background, instead of having its wings cut off. Right now, I'd have to take the image another program, add lots of white space around the dragon, then upload it back to Playground AI and use the inpainting tool to replace the white space with more dragon and sky. But few other tools have this function yet, so I can't quibble too much.
If you're serious about creating AI art, but aren't ready to upgrade to Midjourney — or bite the bullet and learn how to run Stable Diffusion locally — this is your best bet.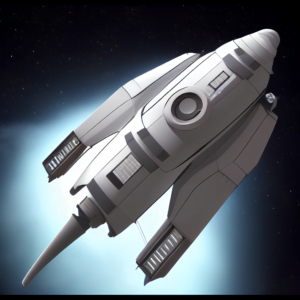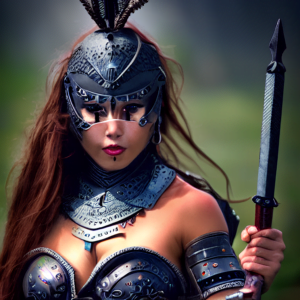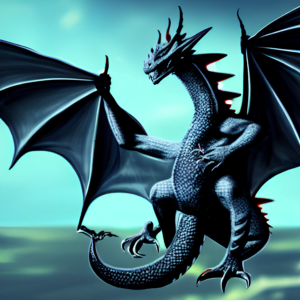 Unlimited free images in five different aspect ratios, and a choice of two AI models on the free plan. It's a little on the slow side, and you only get one image at a time.
But, on the plus side, you get free upscaling to 2,048 pixels square.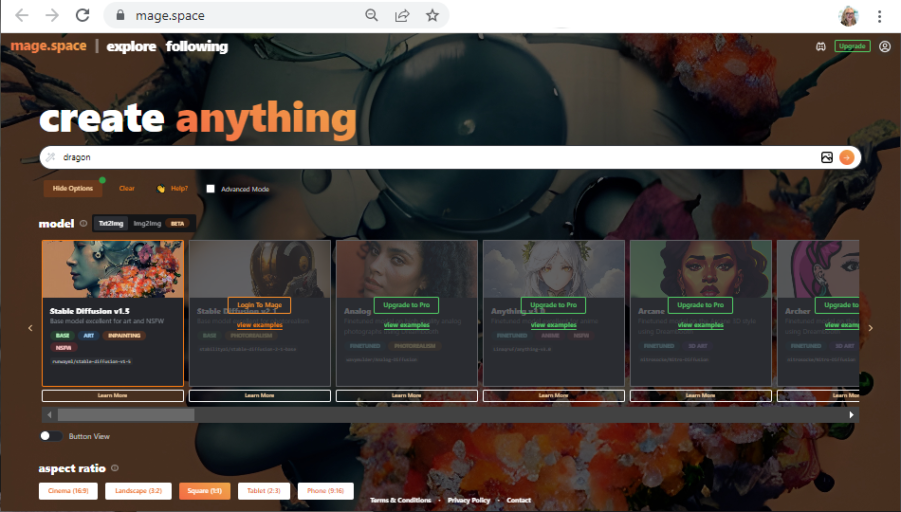 Pros: Big, unlimited free images.
Cons: Slow. And not very good looking. Will require prompt engineering to get decent images.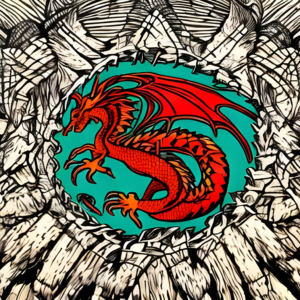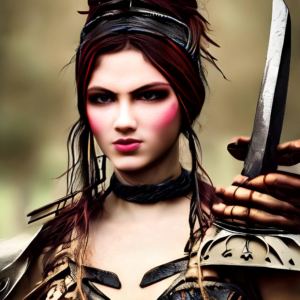 You get 50 free images when you start, and there's also some kind of complicated mechanism to give you more free images, that, I think, translates to 24 free images per day. You can also earn free credits by sharing your work online and participating in daily challenges and events.
The app offers a choice of three different AI models, five different aspect ratios, lets you generate up to six images at once, upload a photo to use as inspiration, and lets you set negative prompts to filter out results you don't want, among other features.
If you mouse over an image you've created, you'll be able to enhance it, generate variations, or use it as the basis for a new prompt.
It's fast — the fastest of all the apps I tried today — and the images are gorgeous. But they're small, at just 640 pixels square. You'll have to use an AI image upscaler like like Upscale Media if you want to use them for print projects.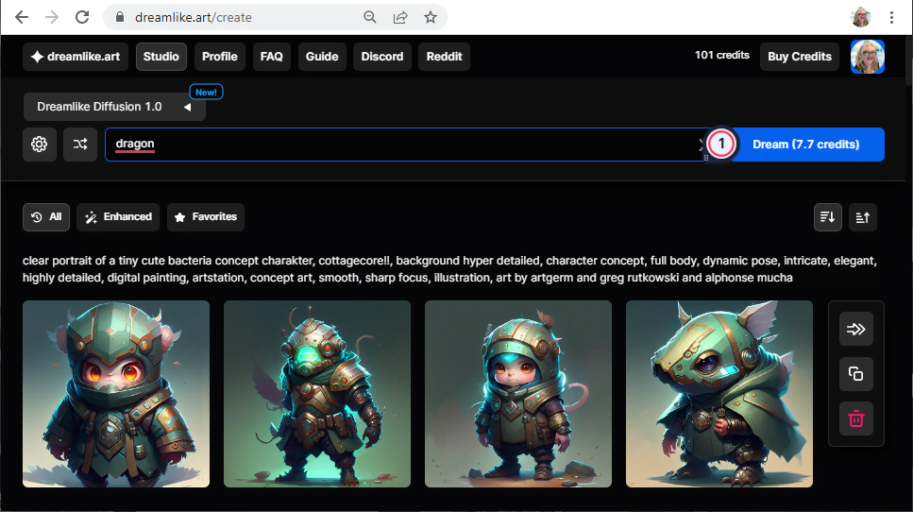 Pros: Fast, good-looking images.
Cons: Weird free plan that's a little hard to keep track of. Also, the images are small.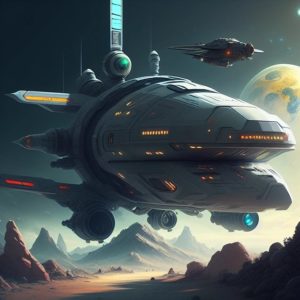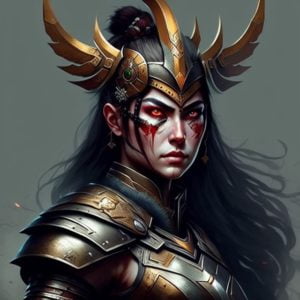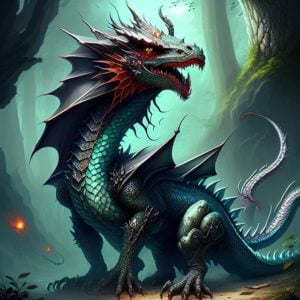 Honorable mentions
There are dozens of other AI image generators out there. I've got a full list here — of the ones I've discovered so far at least.
But here are the ones that came this close to making today's list, but missed by just a little bit.
Leonardo AI offers 150 free images per day, and yes, you can use the free images commercially. This tool is one of the newest ones that came out and the signup process is extremely weird. You not only have to register, get on an early access list, but also subscribe to their Discord server. You don't actually use Discord as the interface. They just want you to sign up. Then, once you're in, the actual interface is also a little complicated, but, on the plus side, you get a lot of cool features, including multiple AI models to choose from. Check out their community feed to see what kinds of images other users are generating.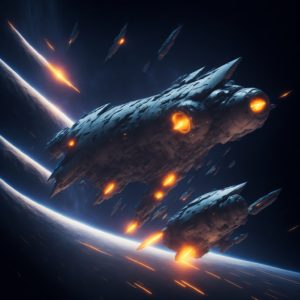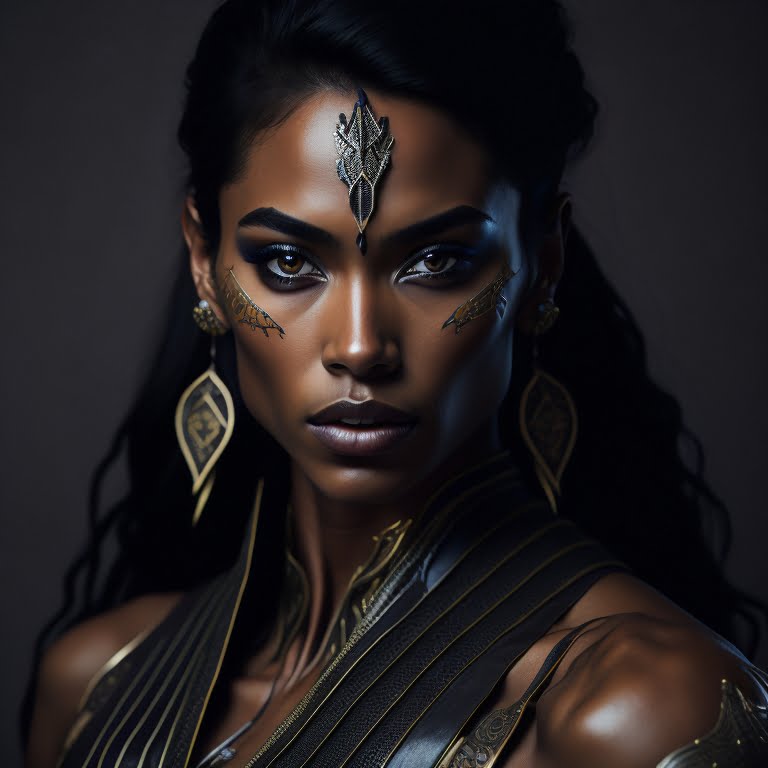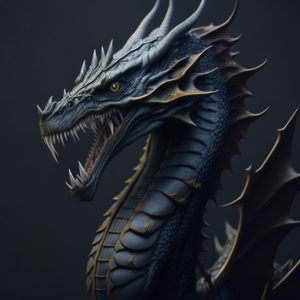 Blue Willow has some nice custom models built in, so can produce a better-than-average picture. And you get unlimited images that upscale to 2,048 pixels square. But, on the downside, it's another Discord-based app, except with even less functionality than Midjourney. That means it's hard to figure out how to get started — you have to ask for an invite, get a Discord account and find the right channel. Then, once you're in, when you enter your prompt, it will scroll up immediately and you'll have to hunt around for results among all the other people in the world using this app to generate images. If not for the interface, I would have included Blue Willow in my top five because the images are gorgeous.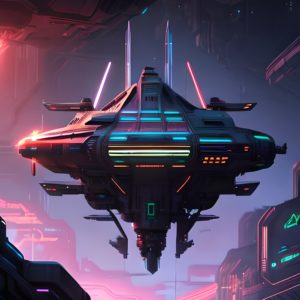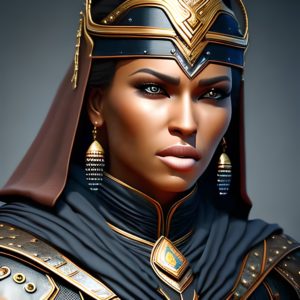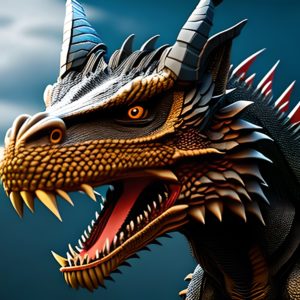 Craiyon is one of the earliest apps in this space — it used to be called Dall-E Mini. It has a super easy interface and unlimited free images, but the images are small and low quality. On the plus side, it's the easiest interface of any on today's list and it gives you nine images with each generation.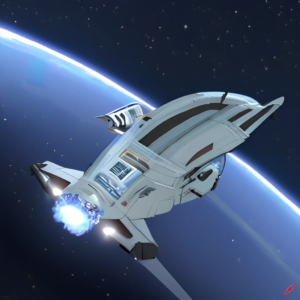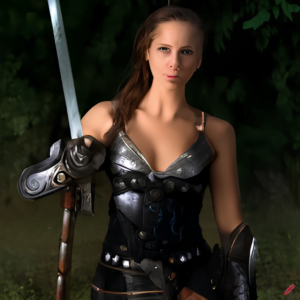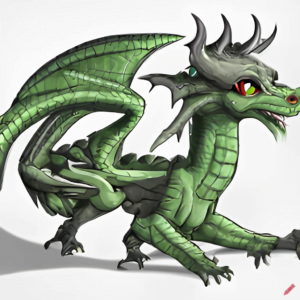 Runway is one of the more powerful apps in this space, but you only get 25 free images before you have to pony up. Still, this site has everything. You can zoom out of images. Replace parts of images. Train you own AI model. There are even jaw-dropping video editing tools in here. This site is a heavyweight. I think it's aimed mostly at corporate users, but if you're an independent digital artist, you probably want to get to know it as well. And they created Stable Diffusion in the first place and are continuing to develop the code. Keep an eye on these guys.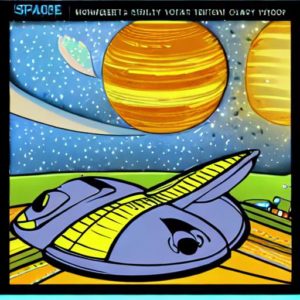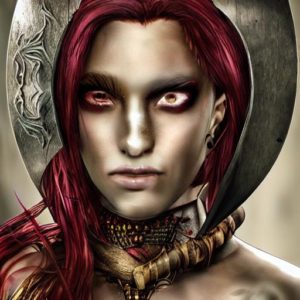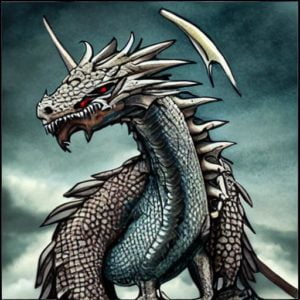 PicFinder doesn't generate new images for you. Instead, it's a search engine for images previously generated by other people. Since you can't copyright AI images, these are all free for anyone to grab. You can search for square, tall, or wide images and just scroll down and see if there's something you like. The square images are 512 pixels, and the service is supported by donations. I personally would not recommend using these images for any commercial purpose, since it's not clear exactly where they come from or what the actual terms of use are. Also, they're small. However, they could work for images that you just keep for yourself, such as character or setting inspiration.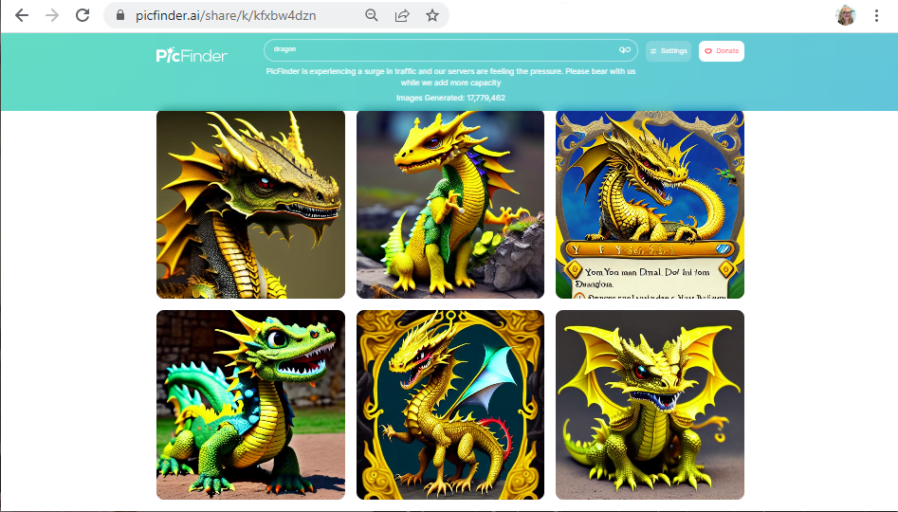 Finally, I keep mentioning Stable Diffusion in this article. You can run it on a home computer if you have a high-end machine or run it on Google Colab if your home PC is just barely good enough for word processing, like mine. If you want to get into the business of creating AI art covers, or marketing materials, or anything else like that, this the professional-strength tool that you'll need to use. It is definitely not for the faint of heart but, if you get working, especially with new add-on tools like ControlNet, you'll be able to generate consistent characters in specific poses, and do a lot of other stuff that you can't do with the free tools listed above.
Watch me go through all the options in the video below: