Reading Time:
12
minutes
Some articles may include Amazon affiliate links. All proceeds go to helping us pay for original stories and to support writers of speculative fiction. Read more here.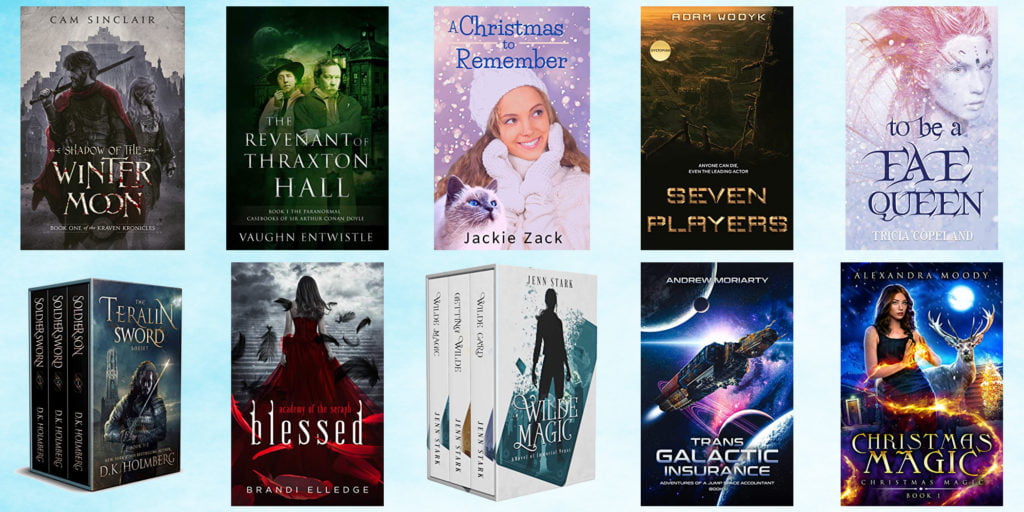 Did you know that Amazon has a list of the top-selling and free sci-fi and fantasy books? The list changes constantly — authors set their books to free temporarily to promote their work, and, of course, books move up and down in the rankings. Read on to find your fun free read for this weekend! And grab the books quickly because they don't always stay free for long.
This week's list is completely different from those of the previous weeks. So if you're a fan of free books, there are going to be new things to read all the time. If you want to get this list in your inbox every Friday afternoon, subscribe to the MetaStellar weekly newsletter.
There are a lot of books to go through, so this week I'm being helped out by a couple of other members of our MetaStellar community. If you'd like to join me in doing these reviews — and taping our regular Friday videos — email me at [email protected].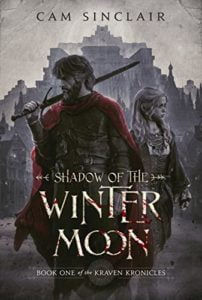 This is the first book in what will be the Kraven Kronicles dark fantasy horror series. The book is usually $0.99, but today it's free. This book is in Kindle Unlimited.
Huni and Tober are two young friends who work for a brutal blacksmith and one day dream of leaving for better and brighter opportunities. That opportunity comes when their boss suffers a fatal event right in front of them.
Afraid of being blamed, the two leave town. After a few difficult days on the road, they come upon a lone traveler who provides food and a ride in his wagon.
Huni wakes to find the traveler coming on to him and attempts to rape him, but thankfully his friend saves the day and kills the man. And cuts off his head.
So much for brighter opportunities, but now they have their own wagon and horses and can ride onward to the city of Kraven.
Then we are introduced to Reelum, a beggar who only wants a drink, a little food, and a bath a couple times a year. He's seen a few things in his days, but when a strange and enormous man enters the tavern that he frequents, Reelum knows something ominous is afoot. But no one seems to notice anything strange in the giant of a man until he lowers his hood and reveals he is some reptilian hell-creature that sends tavern into chaos.
I found the pacing to be quick enough and found the characters relatable and appreciated the bits of humor and cheer they tried to find in the daily lives that seemed to consist mostly of terrible situations. It was too dark for my tastes and I am also not usually a fan of multiple points of view. If you're a fan of dark and gritty — very dark — then this might be for you.
Get the Kindle ebook free from Amazon here.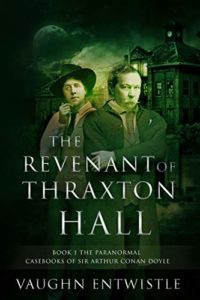 This is the first of five books in The Paranormal Casebooks of Sir Arthur Conan Doyle historical mystery series. The other books in the series are $4.99 each, and the entire series is in Kindle Unlimited.
The book's protagonist is Conan Doyle, whom you may know as the real life author of the Sherlock Holmes stories. Doyle has decided to kill off his beloved Holmes and mobs lob vegetables at him on the streets. Then a mysterious lady begs for his help to save her from her premonitions of a murderer shooting her.
He joins forces with an actor who plays Watson, and with playwright Oscar Wilde, and they get in deep.
I only read the first two chapters, but was pleasantly surprised. I will say that the initial idea of reading something about the author of Sherlock Holmes and an actor for Watson as proxies for the real deals along with the mentions of real magic threw me off. It put my mind immediately into realms of fanfiction and more unoriginal works, but considering the large mostly positive following on Amazon with almost 400 reviews and nearly five stars, and also the fantastic imagery used, I wouldn't despair if I had to read the rest of it.
I've never been much of a fan of detective fiction, but this book reads well. Like, really well. The wording does get a little excessive sometimes in my opinion, but once one gets used to it, the author conjures lively and imaginative scenes.
The story includes some spirit magic and steam-punky elements, so anyone who enjoys those vibes might also enjoy this book.
Get the Kindle ebook free from Amazon here.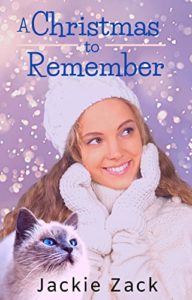 This is a standalone book of holiday fantasy by Jackie Zack. It's usually $2.99, but today it's free. If you like this book the author has several other books available, and they're all in Kindle Unlimited.
The book begins with Ellie's life uncertain now that her mother has married a new man. One who likes to spend the life insurance money from Ellie's deceased father and leave mustard on the couch cushions.
When Ellie's mom and stepdad surprise her with the news that they are jet-setting to Paris for Christmas and leaving her to water their plants and find her own apartment, she is obviously less than pleased with the guy.
She is sent to stay with Grandpa over the holidays. He looks like Liam Neeson, has a fireplace, and makes stew and homemade biscuits for dinner. I'd have left mom's a long time ago. While trying to fall asleep, she is awakened by the meowing of a mysterious cat.
This is a fun and light read. I haven't decided if I'll keep reading or not. But I like Grandpa, there's a cat, and Christmas, so I just might.
Get the Kindle ebook free from Amazon here.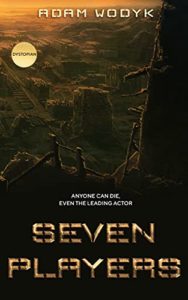 This is a standalone book of dystopian thriller. Usually it's $2.99, but today it's free. This book is in Kindle Unlimited.
This book's definitely for dystopian sci-fi fans.
Max is a young man who stars in the movies of the Emperial, the largest of seven metropolises — but there's a twist.
Using advanced tech, the film creators implant an artificial consciousness into Max and all the other actors while they're supposedly acting. This means they can't control their actions and don't remember anything that happens while under the control of the implanted consciousness.
Also, none of the regular people who see the films know about the creepy artificial consciousness that controls the actors.
This book makes my skin crawl, but the fact that this implanted consciousness idea makes me so uncomfortable makes me want to finish reading the whole story just in the hope that the main characters defeat the bad guys who use their advanced tech in such invasive ways.
So yeah, I guess I'd finish this book, but man, do I find it creepy.
Get the Kindle ebook free from Amazon here.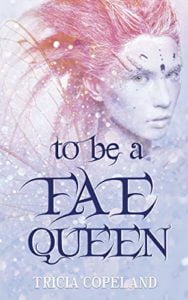 This is the first of two books in the Realm Chronicles fantasy and adventure series. The sequel is $3.99, and both books are in Kindle Unlimited.
Tatyana is a fae princess and is the last of her line. She has had much loss in her young life and now her Middle Earth kingdom is threatened by a dark force.
She thinks of herself as anxious but as actually a fierce and cunning warrior and leader. Through Tatiana's cunning, her people are able to quell one threat but her battles have just begun. She is told that she will soon become queen.
This is a story of magical creatures, inner and outer battles, romance and duty, and the decisions a 15-year-old young woman must make to save and lead her kingdom.
The story moves quickly and has a lot of action in the first couple of chapters. The characters are interesting and the story has a good plot.
Fans of Sarah J. Maas' A Court of Thorns and Roses will enjoy this book.
Get the Kindle ebook free from Amazon here.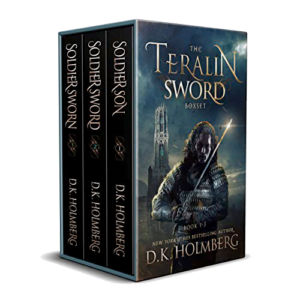 This is a box set of the first three of six books in The Teralin Sword sword and sorcery fantasy series. The other books are $3.99 each, but the entire series is in Kindle Unlimited. D.K. Homberg has been on this list before. In September. we reviewed his The Lost Prophecy box set. We reviewed The Cloud Warrior Saga box set back in July, and, later that same month, Path of the Flame, the first of five books in The Dragon Thief coming of age fantasy series. This past May, we reviewed Unbonded, the first of five books in the First of the Blades epic fantasy series.
Endric is the king's younger son and a member of the country's military. But, unlike his older brother, he's refusing a leadership position. Plus, he's got a bit of an anger management problem. As his brother is sent off to fight at the front, Endric is demoted to city patrol duty as a punishment for his most recent tavern brawl. But something weird is happening in the city that involves mages, the people mining a magical metal, and another member of the military.
Will Endric keep his head down, learn to control his temper, and win his way back into the good graces of his father, and his older brother?
Or will he defy orders and investigate?
I'm betting that he's going to investigate, and the few friends he's got left are going to get into trouble as a result.
What Endric really needs is some therapy to deal with the fact that his mother abandoned him, and the rest of the family, shortly after he was born, and with his failure to live up to his royal expectations. But I doubt that this is going to happen. It would be cool if it did, though.
This story is a little grim and depressing for me, and starts out slowly. I personally don't find Endric to be a sympathetic character, either. But it looks like he'll have an interesting redemption arc and, so far, the story promises plenty of action. I think this would be a good read for people who like Game of Thrones.
Get the Kindle ebook box set free from Amazon here.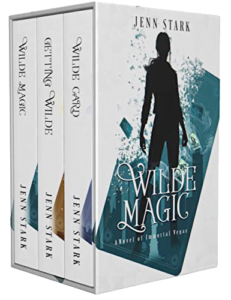 This is a boxset of the first three of eleven books in the Immortal Vegas urban fantasy series. The other books in the series are $2.99 to $4.99 each, and the series is not in Kindle Unlimited. We've reviewed this series before, in March of 2021, and the series has been updated with all new covers since then.
The first book starts out with Tarot-reading artifact hunter Sara Wilde on an assignment that takes her naked into the middle of an orgy in Rio de Janeiro. Her target is a magical jade amulet that she's getting paid $50,000 to retrieve from a human-sacrifice sex-cult.
Just as she's about to get to her goal, she's caught up in a sex spell but is saved by a mysterious person with a psychic connection to her.
And I'm caught up. I like the way that Sara takes down annoying men, the clever way she gets her hands on the amulet, her situational awareness, and all the sexual tension in the air.
Oh, and the story is very, very sexy and funny.
When I first read the beginning of this book a couple of years ago I thought that I was going to stick with it. Now that I'm reading it again, I'm definitely planning to stick with it and finish it.
Get the Kindle ebook box set free from Amazon here.
3. Blessed by Brandi Elledge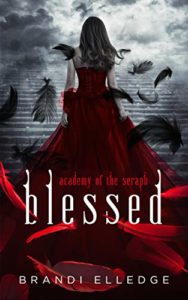 This is the first of three books in the Academy of the Seraph paranormal angel romance series. The other books are $3.99 each, and the entire series is in Kindle Unlimited.
Humans are tested at age fifteen to see if they have at least a tenth of the angel gene. If they do, they can be admitted to the Academy of the Seraph. Many human children hope for the chance to be admitted to the academy.
Those that do well in the academy become warriors in the war between the angels and the darken.
Gabriella is not interested in being anything but human – even though she knows she's not. She has done everything she can to avoid being tested for two years.
Gabriella is a tough, wise-cracking, foster kid. She considers being one of the blessed more of an infection. When she is tested and it is discovered that she is blessed she is sent to the academy where they discover she is so much more than blessed.
The characters are fun, the story moves along quickly, and the plot is interesting.
I enjoyed the beginning of this story and am invested in finding out what happens to Gabriella.
Get the Kindle ebook free from Amazon here.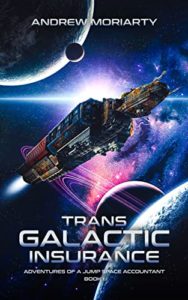 This is the first of five books in the Adventures of Jump Space Accountant space opera series. The other books are $3.99 to $4.99 each, but the entire series is in Kindle Unlimited.
Our story starts out with Jake and his best friend Bart not paying attention in their History of Insurance class. Jake, an Asteroid Belter (but perhaps not our solar system's Belt), is smart but poor, while Bart hails from an Earth-based merchant family and has money to spare. Bart depends on Jake's study habits to pass his classes at the merchant academy since he's too busy gambling, while Jake depends on his friend's advice to fit into the local scene.
The Academy is on a rotating station revolving around the fourth moon of Iota Draconis, a gas giant.
A dynamic is set up when we learn that Jake has the hots for their sexy – and intense – classmate Nadine, but so does another station inhabitant, Danny, who makes fun of Jake's provinciality.
So far, the setup is holding my interest and the hard SF elements seem to have been given much thought. The dialogue is believable and the characterizations feel like real, 3D people.
Besides yearning for Nadine and not-quite parrying Danny's insults, Jake's first real obstacle comes up when Professor Dashi, he of the History of Insurance class, and – it turns out – Director of Student Affairs, tells him that in order to get a ship placement after graduation, Jake will need to buy one. And, unlike every other student at the academy, he has neither a corporate sponsor nor deep pockets.
What to do? What to do?
Bart has an idea…
I'm enjoying this novel and I intend to finish it. I think it would appeal to fans of hard sci-fi, young adult sci-fi, space operas, and, maybe, forensic accountants.
The book follows the adventures of Jake Stewart, the quintessential everyman. Our accountant and soon to be hero is likeable, especially as someone who is a bit of an outsider, young and a wallflower.
His classmate Nadine is street smart and research savvy, who, if she can match him in wits, can surely match him in obscure research of long dead legislation.
It's a fairly predictable, fish out of water story, and college a-holes abound but the book does have its charms. And I am a sucker for accountant stories.
What ever happened to Intergalactic Financial Reporting Standards? The Mars Derivatives market? And here I thought blockchain would solve everything!
The book has a very slow beginning but I am loyal to the tribe, so will probably keep reading.
And for all you accountants out there, remember fraud is just a complex number that you have not figured out yet.
Get the Kindle ebook free from Amazon here.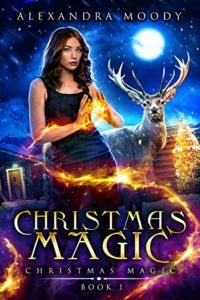 This is the first of three books in the Christmas Magic urban fantasy series, the other books are $3.99 each, and the series is not in Kindle Unlimited.
Clio is at the supermarket buying orange soda and mac and cheese when the first Christmas song of the year starts playing and she drops all her groceries. I sympathize. We haven't even had Thanksgiving yet and here you go — two different Christmas books on this week's top ten list.
Clio has a particular grudge against Christmas music, though. She's a claus.
So she leaves the supermarket without her buying anything — though she's forced to pay for the food she dropped and ruined — and goes to a nearby pub for a beer. She's only 19, but this is England, so I guess it's legal.
She and her mom left the north pole when Clio was a child and, unlike other magical creatures, Clio's power is strong all year 'round, not just at Christmas. She's trying to keep it a secret. The only one who knows is her best friend, a ghost. To stay under the radar, Clio has moved to a small town in the middle of nowhere. She's hoping that she can avoid danger by staying away from other magical beings.
Then a reindeer walks into the bar.
Well, a reindeer shifter in hot guy form.
She ducks out a side door and heads for her apartment when she smells candy cane. There's an elf hanging out in the alley near her apartment. The minute he sees her, he shoots an arrow at her. She ducks, but more elves show up. Dark elves. And they're all shooting at her. She tries to make a break for it when the reindeer shows up — now in reindeer form — and saves her. And gets shot with an arrow in the process. She bandages him up and takes him back to her apartment to hide him, in case more dark elves show up.
This is a great cozy beginning and I'm kind of getting into the mood for Christmas while reading this. Or, if not for Christmas itself, then for a cute Christmas-themed story.
Get the Kindle ebook free from Amazon here.
---
See all the Free Friday posts here. Do you have other free books for us to check out? Comment below or email me at [email protected].
Have you read any of these books? Are you planning to? Let us know in the comments!
Or watch Maria, Christina, and Romel discuss all ten books in the video below: