Reading Time:
4
minutes
Some articles may include Amazon affiliate links. All proceeds go to helping us pay for original stories and to support writers of speculative fiction. Read more here.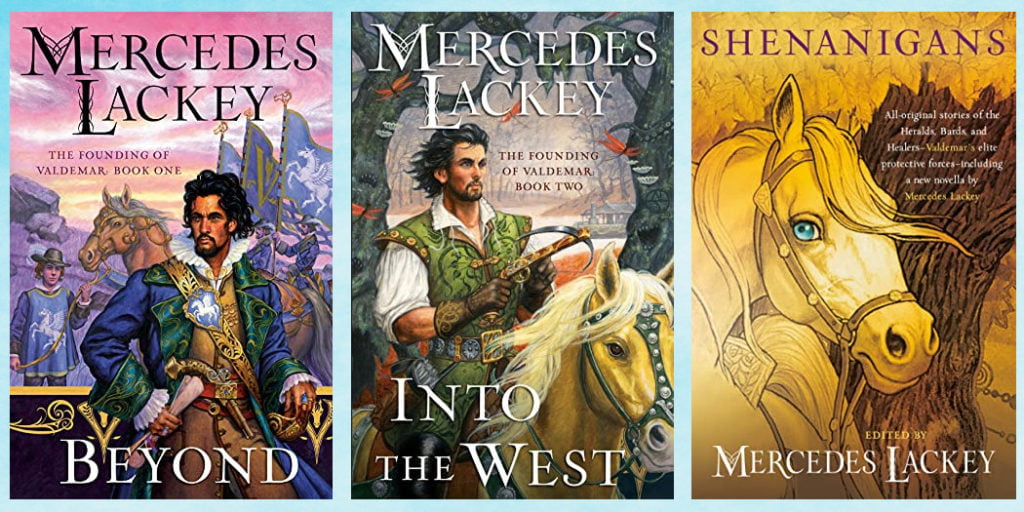 The second and final installment in Mercedes Lackey's The Founding of Valdemar series — Into the West — just came out.
If you've got someone on your gift list who's a fan of the Valdemar universe, the entire series available in paperback and hardcover as well as digital.
Mercedes Lackey is an official grand master of science fiction, with more than 140 novels to her credit, so there's a good chance that if someone is a fan of epic fantasy, they've read her work.
She is best known for her Valdemar books, which fall into more than ten different series.
I would classify the books as cozy fantasy — they're character-driven, the people are generally good at heart, and none of the books will give you nightmares after reading them. There's plenty of magic and adventure, and you'll finish the books in a good mood, ready to read the next ones in the series.
The two latest Valdemar books — or earliest, if you look at it from a chronological perspective — are no exception.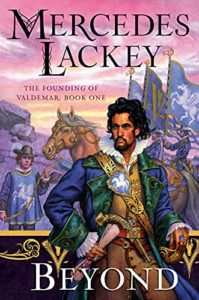 Whether you're new to Valdemar, are coming back to the series after some time away, or are fully caught up on all the other books, Beyond is a great read.
You don't need to know anything about Valdemar in order to get into it, but even if you do know a lot about Valdemar, the story won't be boring or repeat what you've already seen.
It follows the story of Duke Kordas Valdemar, whose duchy is increasingly threatened by a corrupt empire.
Kordas has spent time in the capital and knows how the political games are played. In fact, he's a master at these games — and has been using his skills to keep his duchy safe. But now time is running out for his people and he needs to find a way to move everyone beyond the reach of the emperor.
I like stories of clever people with strong moral compasses. I particularly enjoyed the fact that Kordas was good at politics. Too often, in speculative fiction, anyone who's good at politics is automatically the bad guy. But politics is just a tool, like any other — it can be used for good or evil.
I liked seeing Kordas wrestle with the need to compromise and make trade-offs when trying to figure out what was the best for his people.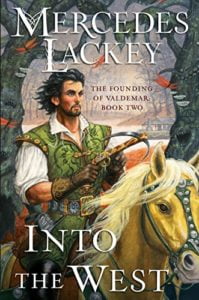 The second, and final, book of the The Founding of Valdemar series, is also out, just in time to pick up a copy for the holidays.
I personally didn't like it as much as Beyond, but that's probably because the second half of the book was a retelling of what was already known about Valdemar's history, and wasn't quite as exciting as the first half, which was still covering new territory.
Since the story had to sync up with what was already known, there was a little too much exposition for my taste, and not enough plot. But then the action picked up again at the end, so stick with it.
I don't want to give away too much of what happens here, other than to say that the world building, as always, is impeccable, and the characters are compelling.
I also enjoyed the fact that I knew that the book was going to have a happy ending — after all, I know from reading other Valdemar books that despite all obstacles, Valdemar does, in fact, get founded and becomes a success. In a time when the news is pretty grim all the time, it's nice to have something positive to look forward to.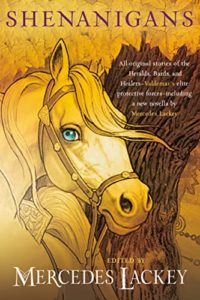 Finally, I've got one more book for you to read set in the Valdemar universe, also released this week.
It's Shenanigans, a collection of short stories by Mercedes Lackey and other writers.
It's a perfect read — the stories are all fun and fast paced, and all involve hijinks of one kind or another.
It's a great holiday read for anyone who's a fan of a lighter style of fantasy, or who just needs a break from the typical grim, dark style of most fantasy epics.
The stories can all stand on their own if you don't have prior knowledge of Valdemar, so this is a good introduction to the universe for new readers.
I loved this book.
Both Into the West and Shenanigans were sent to me by the publisher in the form of advance reader copies so that I could write this review, but the opinions are my own. And, to be honest, I would have read these books anyway — I'm a big fan of Mercedes Lackey and have read all the other books set in the Valdemar universe.
Meanwhile, if you want to know more about the author, check out our YouTube interview with her, where she talks with Long Lost Friends hosts Andrea Goyan and E.E. King about creatures and science.
She's also been back on the show, to talk about working with co-authors:
If you don't want to miss any of our author interviews, Free Friday book reviews, or other videos, subscribe to the MetaStellar YouTube channel here.