Reading Time:
< 1
minute
Some articles may include Amazon affiliate links. All proceeds go to helping us pay for original stories and to support writers of speculative fiction. Read more here.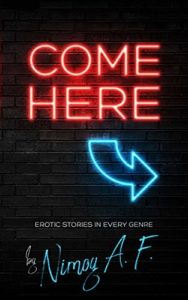 A new book by MetaStellar community member Nimoy Aldous Faraday hit the shelves today. Come Here features erotic stories across a number of genres, including sci-fi, cyberpunk and fantasy.
The first story is a science fiction adventure in which Zenith, abandoned at birth and raised as a servant in a martial arts training house, suddenly finds herself the target of an interplanetary manhunt.
Why are people trying to kill her? Can she trust the mysterious stranger who promises to protect her?
I couldn't put the story down. Zenith's past hides a secret of life-altering proportions, for herself, for her new protector, and for an entire space-facing society.
While billed as an erotic story, "The Protector," in my opinion, is a space opera adventure with a fast-moving plot, compelling characters, and vivid writing. One that just happens to include some sexy times — but what doesn't, these days?
My only complaint is that it was too short. The story can easily be the basis of a full-length novel of its own. Fortunately, there's plenty more to read in this collection.
Get the ebook version on Amazon for $1.69, or paperback for $9.69. You can also read more stories by Nimoy Aldous Faraday on Archive of Our Own, or visit the author's website here.