Reading Time:
9
minutes
Some articles may include Amazon affiliate links. All proceeds go to helping us pay for original stories and to support writers of speculative fiction. Read more here.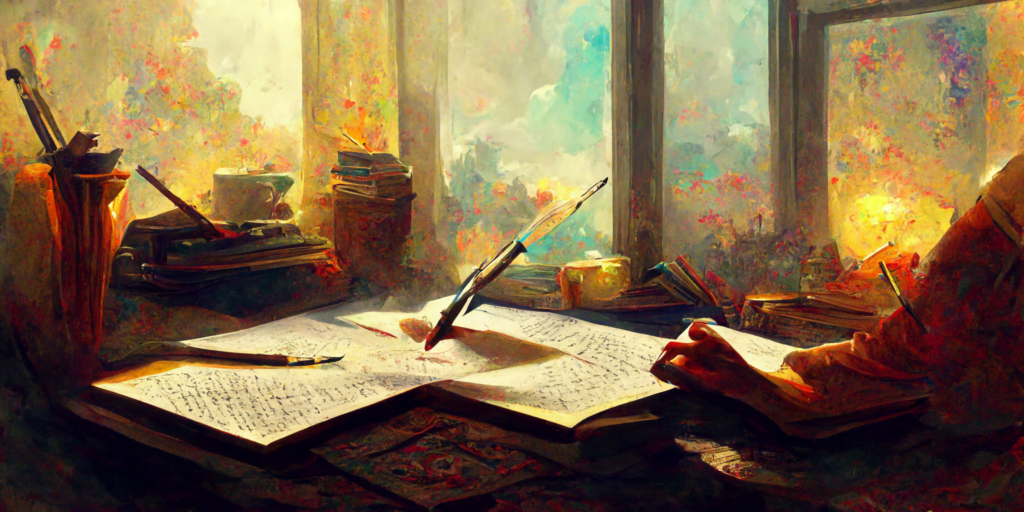 I subscribe to more than 150 writing advice sites and gather the best posts for you every single Sunday. You can see all the previous writing advice of the week posts here and subscribe to the RSS feed for this writing advice series here (direct Feedly signup link).
Productivity, mood management, and battling the demons inside
If you're having trouble figuring out how to start writing a novel, maybe the issue is that you're trying to start at the beginning, and haven't figured that part out yet. But you don't have to start at the beginning. You can start anywhere in the story you feel like starting. You can rearrange, if you like, later on. Joni B. Cole is the author of two writing guides, Good Naked: How to Write More, Write Better, and Be Happier and Toxic Feedback: Helping Writers Survive and Thrive. She founded her own writer's center, and is a popular teacher and speaker at a variety of academic programs, writing conferences, and nonprofit organizations. She is also the creator and host of the podcast Author, Can I Ask You? Learn more at her website, JoniBCole.com or follow her on Twitter at @JoniBCole. Women on Writing's The Muffin blog offers advice about writing. For more advice like this, follow them via their RSS feed (direct Feedly link here) or on Twitter at @ or on Facebook at @wowwomenonwriting.
An overview of some classics of literature that were originally rejected by publishers. Elaine Viets has written 30 mysteries in four series. Check out her website at ElaineViets.com. The Kill Zone is the home of eleven top suspense writers and publishing professionals. They cover the publishing business, marketing how-tos, and the craft of writing. Follow them on RSS here (direct Feedly signup link). Follow them on Twitter @killzoneauthors.
Other motivational advice this week:
The art and craft of writing
Award-winning author Raquel V. Reyes discusses the necessary growth happening in the publishing industry and offers 5 tips to bring your culture and heritage to your story with confidence. Follow Writer's Digest via their RSS feed (direct Feedly signup link), on Twitter at @WritersDigest and on Facebook at @writersdigest.
If you write online, you more than likely use Grammarly. While you might already have the widget installed, you might be wondering how to use Grammarly for Word. The Book Designer, part of SelfPublishing.com, offers hundreds of articles about book design and marketing.
A common trope in fiction is when the protagonist faces some big challenge, only to learn that it was just a secret test set up by their mentor. This can be done badly and come off as a cliché, or make no sense in the story. Maybe just have the mentor tell the protagonist that there's going to be a test, and do it in a controlled setting, instead of putting the protagonist at needless risk. Oren Ashkenazi is a speculative fiction manuscript editor at Mythcreants. Mythcreants is my all-time favorite writing advice site. Get their RSS feed here (direct Feedly signup link) or follow them on Twitter @Mythcreants and on Facebook at @mythcreants.
A sarcastic take on the biggest clichés that show up when authors write about cults. J.P. Beaubien's current project is a book series named Aeon Legion. Follow him on Facebook at @authorJPBeaubien and on Twitter at @JosephPBeaubien. Terrible Writing Advice is a very popular YouTube channel where J.P. Beaubien offers only the most sincere and genuine writing advice delivered with absolutely no sarcasm at all.
The controlling idea is the ethical or moral point of the story. Scenes containing actions and events that stray from the path should be eliminated. Stavros Halvatzis is a writer and writing teacher. For more advice like this, check out StavrosHalvatzis.com or follow him via his RSS feed (direct Feedly link here).
Podcast: 401 – Special Abilities by Oren Ashkenazi, Chris Winkle, and Wes Matlock
When everyone has magic abilities, it can take a little effort to make your protagonist special. In this week's episode, the Mythcreants team gives some pointers on how to do just that. Oren Ashkenazi is the speculative fiction manuscript editor, Chris Winkle is the founder and editor-in-chief, and Wes Matlock is a content editor at Mythcreants. Mythcreants is my all-time favorite writing advice site. Get their RSS feed here (direct Feedly signup link) or follow them on Twitter @Mythcreants and on Facebook at @mythcreants.
Great article about how a screenplay is just the starting point of a movie production process. Lucy Hay is a script editor, author and blogger who helps writers at her site, Bang2write.com. Follow Bang2write.com on Twitter at @Bang2write and on Facebook at @Bang2writers.
Claire Fraise talks with Maxwell Alexander Drake, an epic fantasy author and the how-to book Dynamic Story Creation. He talks about how he outlines, develops the major theme, and plots out reversals. Claire Fraise wrote her first novel when she was 16, and has since published two other supernatural thrillers. Connect with her on Instagram at @clairefraiseauthor, on Facebook at @clairefraiseauthor, or visit her website at ClaireFraise.com. Write with Claire Fraise is her YouTube channel.
This video is about how to write character arcs over the course of a series and how to give each book new conflicts without making the series feel repetitive. Abbie Emmons teaches writers how to make their stories matter. For more advice like this, check out her website, AbbieE.com. Abbie Emmons is a YouTube channel about writing from writing instructor and author of the same name.
Other writing advice this week:
The business side of writing
Fantasy author Michael Webb describes how a brutal editing experience taught him to write better stories, and how he's built his audience. Mark Dawson is a USA Today bestselling author who teaches courses about book production and marketing. Check out his website at MarkJDawson.com. James Blatch writes military thrillers. For more, check out his website, JamesBlatch.com. On the Self Publishing Formula show, Mark Dawson and James Blatch talk about building a career as a self-published author.
Authors need to delegate in order to grow. If you try to do everything yourself — writing, editing, cover design, marketing, and the million other jobs that go into creating a book — your growth will plateau, or you might get burned out. So you need to build organizational infrastructure to support future growth. And, when you first invest in that infrastructure, growth slows down for a short time since you're now investing time and money into your business. The problem is that some authors are investing in infrastructure for things that aren't selling. "If you build it they will come" doesn't apply to books — or most other businesses, for that matter. Becca Syme is a Gallup-certified strengths coach, author coach, and nonfiction author who's coached more than 5,700 authors. The QuitCast for Writers is a video podcast where Becca Syme discusses what to keep, what to quit, and what to question, if you are trying to make a go of the author career.
Other business advice this week:
---
Am I missing any writing advice sites? Email me at [email protected] or leave a note in the comments below.