Reading Time:
10
minutes
Some articles may include Amazon affiliate links. All proceeds go to helping us pay for original stories and to support writers of speculative fiction. Read more here.
(This article was updated in September, 2022.)
According to WrittenWordMedia's 2019 author survey, more than 75 percent of successful book authors — those making $60,000 a year or more from their writing — use professional designers for their book covers. But they tend to spend between $100 and $250 on their book covers.
Where can you get a professionally designed book cover for that much?
Sure, you can try Fiverr, but in my experience the results can be very poor, you have to know exactly what you want and how to describe it before you start, and it involves a lot of back-and-forth with the designer to end up with anything that looks halfway decent. And in the end, you still might not end up with something that looks like a real cover.
So how do authors do it?
Turns out, there's a simple answer — pre-made book covers.
Artists create finished, professional-looking book covers and post them on book cover sites. If you like one, you buy it, and they change the title, author, and subtitle to whatever you want — and take the original down off the site so that nobody else has the same cover as you.
A lot of them cost under $100, but expect to pay extra if you want a lot of customization or a high-res front-and-back cover version for print books.
Some sites offer covers with a particular feel, others are groups of artists where you can get more covers in the same style from their artist themselves.
Here are some places to start.
More than 10,000 book covers in 19 genres, including science fiction, paranormal and urban fantasy, horror, and apocalyptica.
To my eye, this site offers some of the most professional-looking, attractive covers out there — for the best price.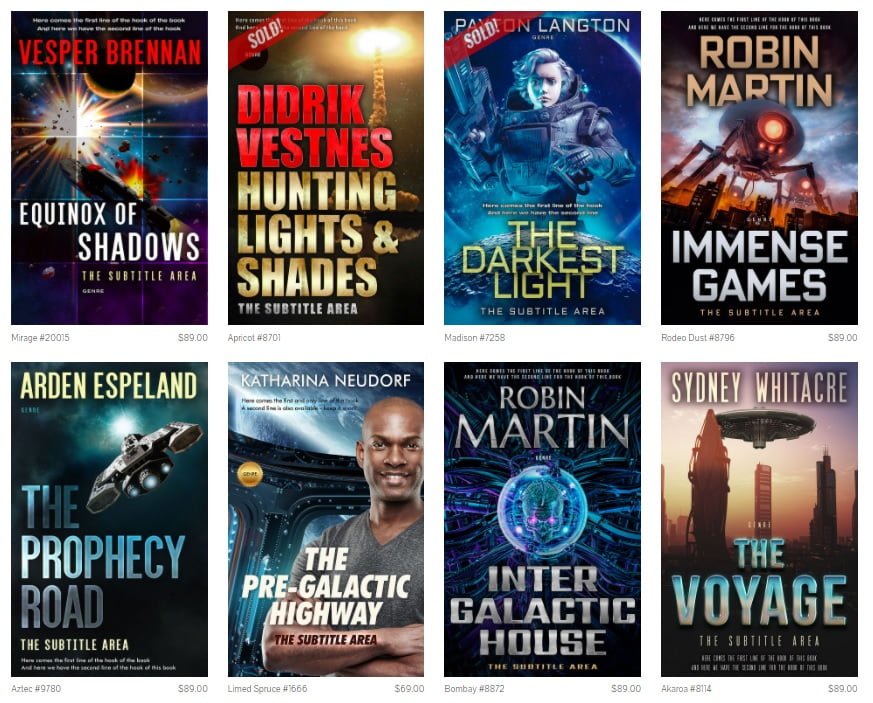 Most covers are just $89 each, and let you change the title, author, subtitle, genre, and promotional blurbs.
There are a bunch of additional services, most of them also extremely low-priced. For example, for $49, you can reformat the cover for a non-standard paperback trim size or an audio book, and for $199 you can turn one cover into a series of covers with a uniform typeface across all the covers.
The site is nicely categorized, making it easy to find the book you want. As with all the sites on this list, the more your book conforms to genre expectations, the easier it will be to find a cover that fits.
If you book crosses genres, or belongs to a niche genre like LitRPG, it's going to be harder. In fact, searching for "LitRPG" brought up no results.
This site says it has more than 30,000 book covers in ten genres, including sci-fi and fantasy.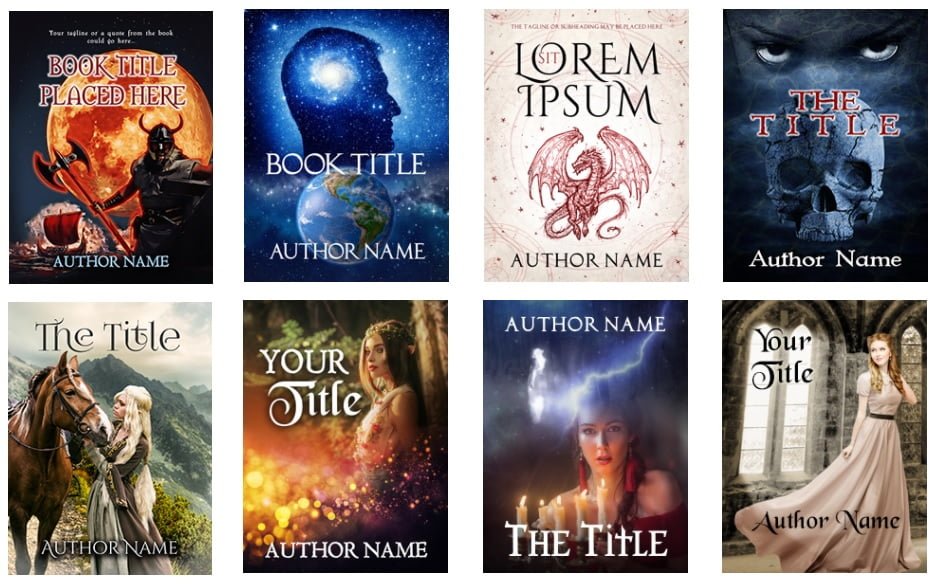 Prices typically range from $69 to $199, with most covers between $80 and $100.
These covers are a bit more hit-or-miss than the BookCoverZone, but there is quite a bit of variety in both designs and price points.
For example, searching for "LitRPG" produced dozens of results, some of which look very appropriate for the genre.
Nearly 20,000 covers in 17 genres, including paranormal, fantasy, sci-fi, steampunk, and dystopia.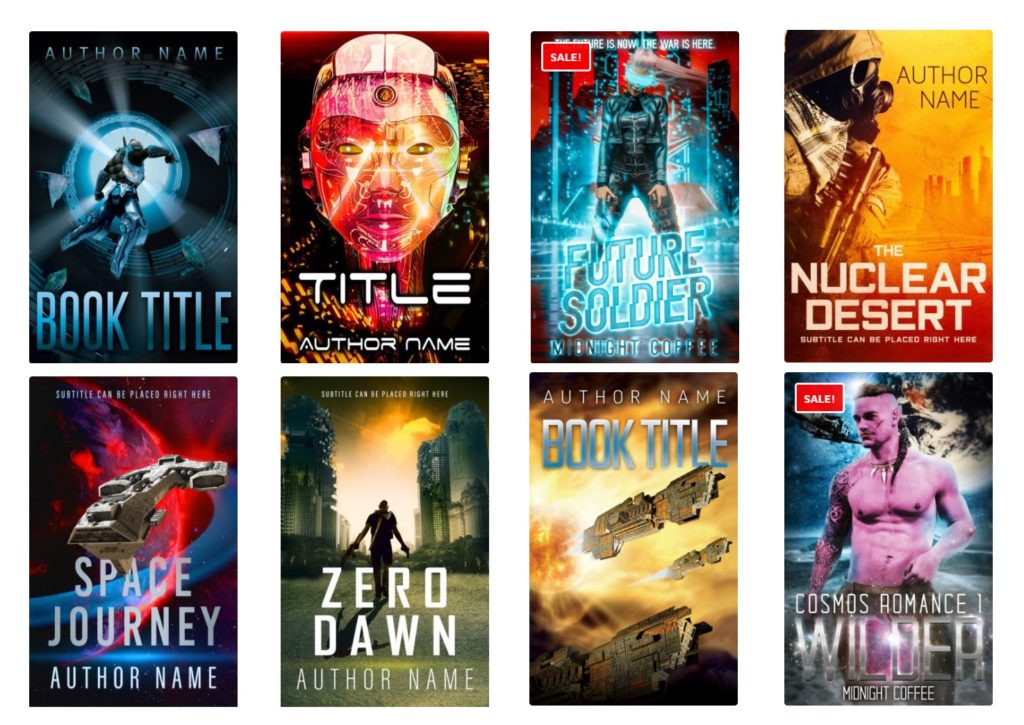 Prices typically range from $65 to $100. The styles on this site vary quite a bit, with retro covers, extremely creative covers, as well as the kind of genre book covers that tell the reader exactly what your book is about at a single glance.
The search function is nice, and "LitRPG" gave dozens of results, all of them extremely genre appropriate. You can even get more specific. "Dragon shapeshifter romance" brought up two results, both extremely usable, judging by all the shapeshifter books I've been reviewing every week for our Free Friday posts.
This is a smaller site, with about 1,000 covers, about 150 of which are in the fantasy and sci-fi category.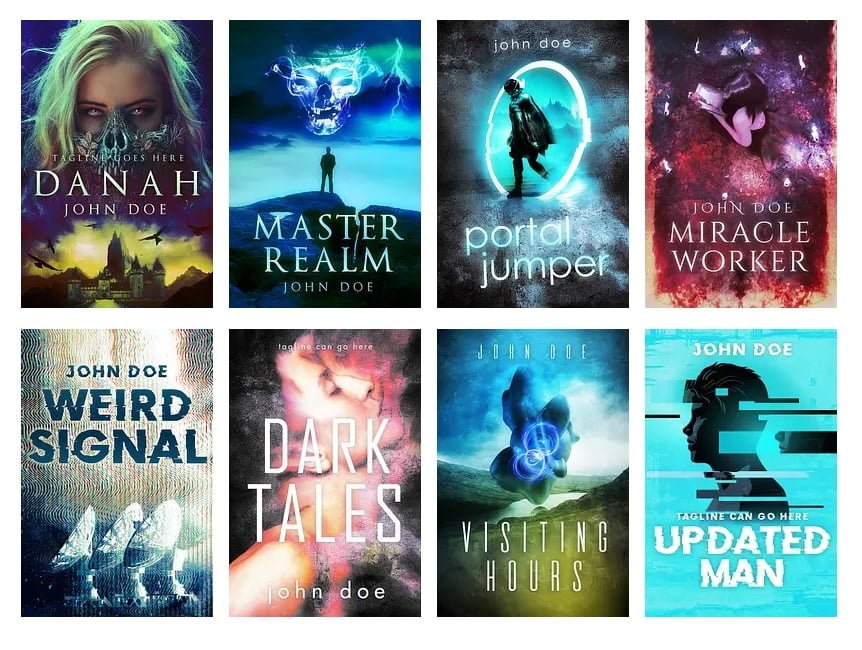 Prices typically run from $60 to $90 per cover.
This is a site run by a single artist, but if you happen to like that particular artist's work, then you're all set.
He'll also do custom covers, series covers, and create original illustrations for you. He's recently also begun doing author websites.
Thousands of covers from author and cover designer James Helps, in 34 categories including sci-fi, horror, apocalypse, and fantasy.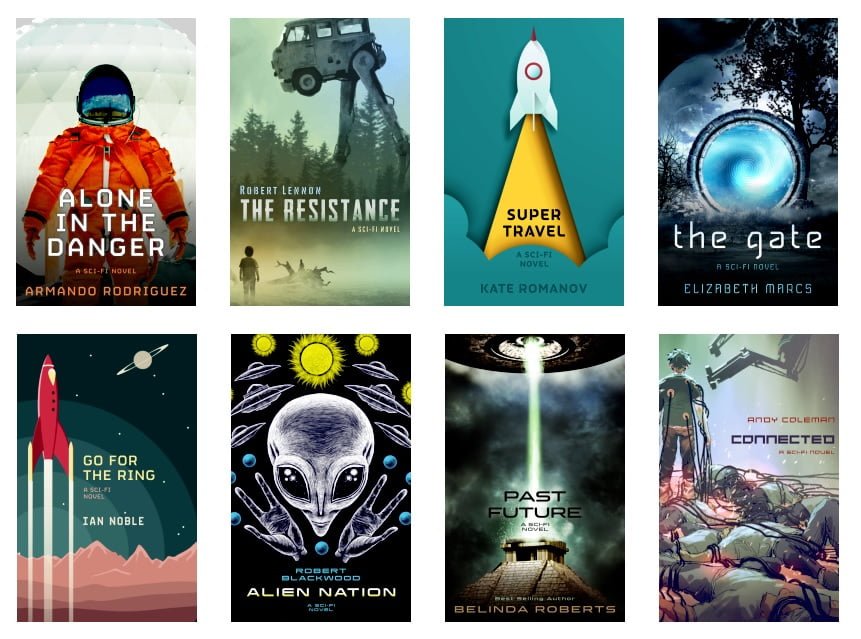 Some of his covers have a retro feel to them, if that's what you're looking for. He also does a lot of custom work, including social media and advertising images, images for bookmarks or postcards, series covers, print covers, and more.
A single cover is $40, and if you buy more than one, there are discounts. And if you're really looking to save money, check out his bargain bin, which is full of fun and off-beat covers starting at $16 each.
A single-artist site could be a good fit for you if you like the artist's style. It will make it easier to find covers that have the same general look and feel, so your author bookshelf will look stylistically consistent. Plus, if you ever need custom work, you'll know exactly where to go.
Another site by a single studio, with nearly 1,000 covers in a dozen categories including fantasy, sci-fi, and horror.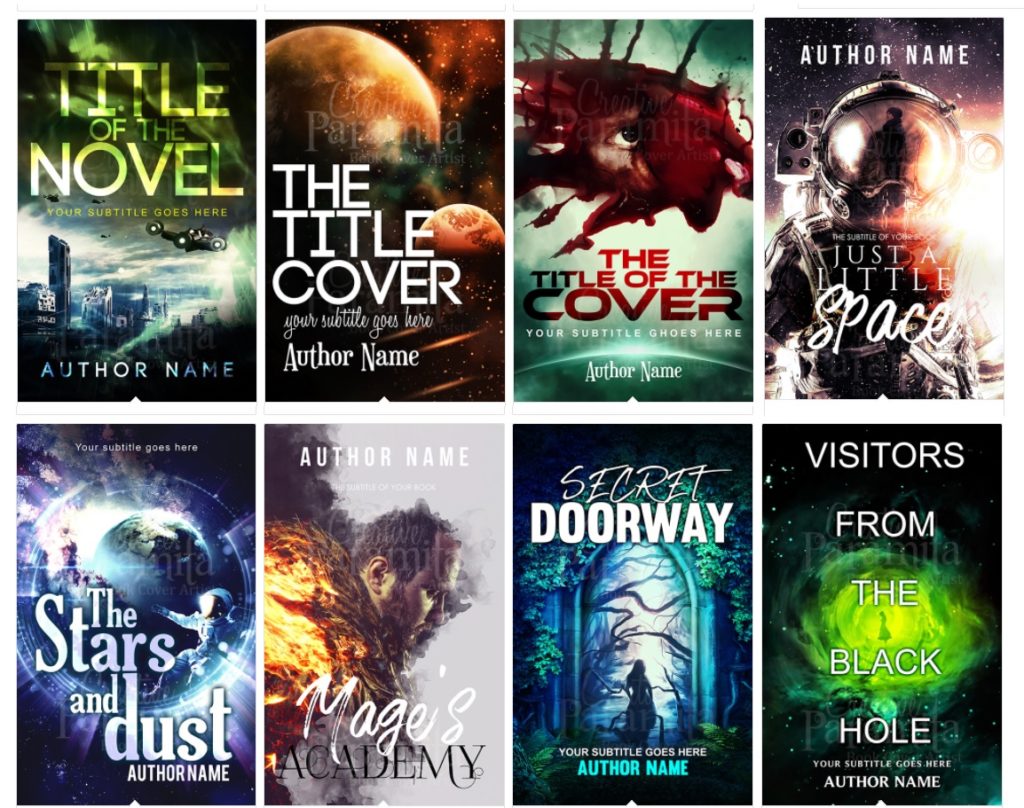 Prices typically range from $70 to $140 per cover, and the studio does custom design work, as well, starting at $350. Custom designs include unlimited changes.
I personally find their covers bold and gorgeous. They really pop off the page, even in thumbnail form.
Another smaller site, with a couple of hundred covers, not categorized. Each cover is a fixed price, $69 for the ebook cover, and $89 for both an ebook and a print cover.

There are a few fantasy and horror covers, but the selection leans heavily towards romance.
They do allow customizations of their premade covers, such as different font options, but they don't do completely custom covers. Their book covers are bold and really pop off the page, but the selection is limited and the covers don't seem to have been updated recently, with no new covers from 2021 or 2020.
Around 600 covers in more than a dozen categories, including sci-fi, fantasy, dystopian, horror, and paranormal.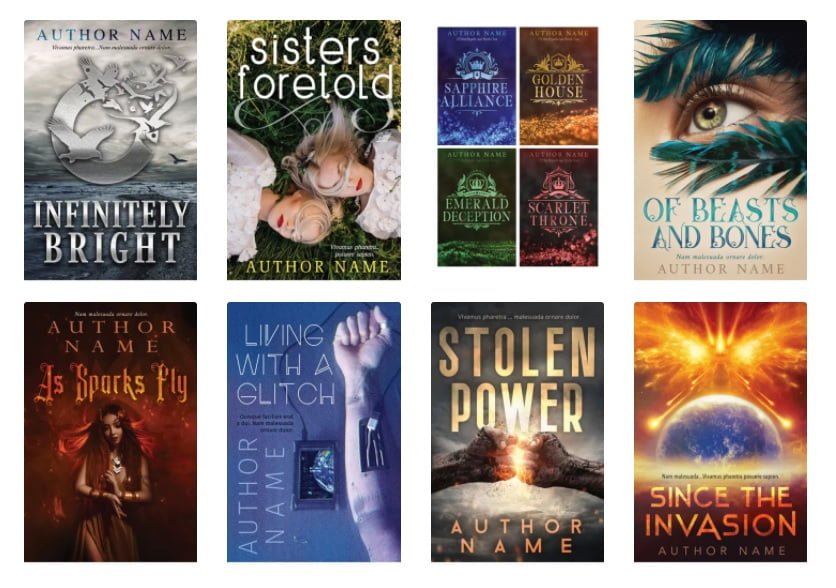 Typical prices are between $70 and $90 for ebooks and $120 to $140 for print covers.
The site isn't categorized but you can search for keywords. For example, "fantasy" returns 30 results,  a third of which don't seem relevant.
This design studio also offers custom book cover design and promotional materials such as social media banners and bookmarks.
A couple of hundred covers in a dozen genres including dystopia, fantasy, horror, and paranormal and sci-fi.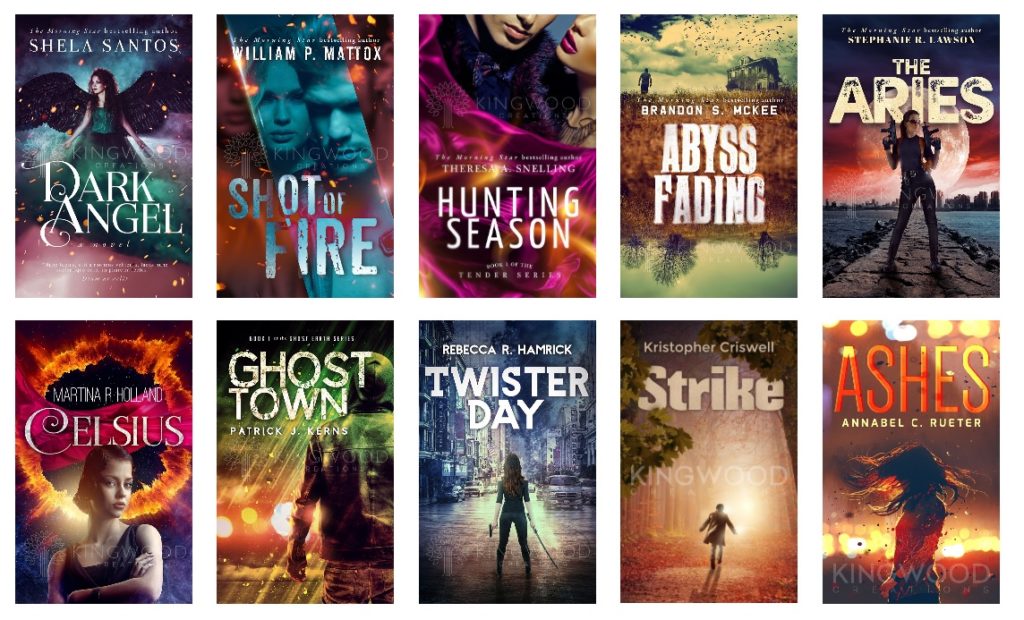 There are only about fifty sci-fi covers, and they do have a particular aesthetic and feel, with many having a softer, romantic style.
Prices typically range from $50 to $150.
This studio will do both ebook and print covers, create custom art, and produce video trailers.
A UK-based site with several hundred covers in five genres, including sci-fi, horror, and fantasy.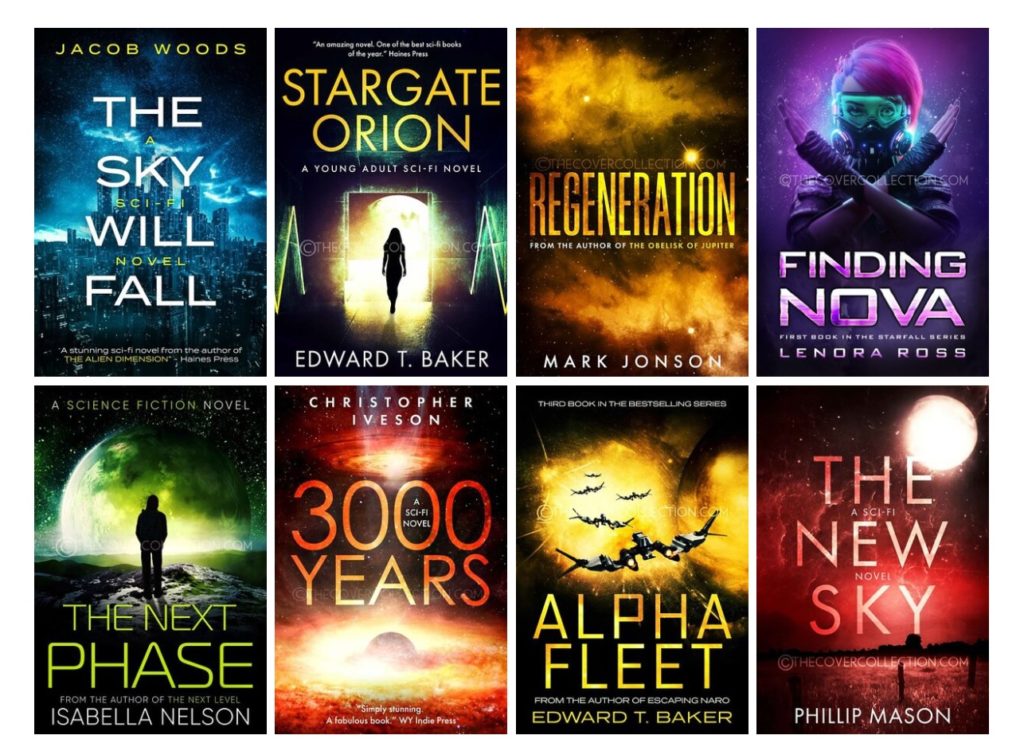 Prices are fixed, at £60 — about US $80 — for an ebook cover. Print, audio and marketing materials are also available for an additional price.
The sci-fi covers have a hard science fiction feel, in case that's what you're looking for, and the fantasy covers have a high-fantasy tone.
They are currently fully booked for custom work, but they say that they will be taking new bookings at the end of this year.
Hundreds of pre-made covers in a variety of genres, starting at $145. Unfortunately, the covers aren't categorized by genre.

Print versions of the covers are available for an additional $150. The company also offers ebook formatting, audio book covers, Facebook banners, poster-sized files, bookmarks, and animated covers.
This studio offers more than 200 pre-made covers in nine genres, including sci-fi, fantasy and horror with typical prices ranging from $70 to $80 per book.

Custom covers are also available, though the prices for these services aren't listed on the website.
More than a hundred pre-made covers, in ten categories that include fantasy and sci-fi, paranormal romance, and sci-fi romance, with typical prices between $70 and $100 per cover.

The company also offers other services, including beta reading and marketing graphics,
This is a site by artist Lieu Pham, who has a very impressive background, including art degrees and Hollywood experience. There are in a dozen categories, but the selection is limited. As of this writing, there are 21 fantasy covers, 19 paranormal covers, 13 horror covers, and 11 sci-fi covers — and some covers appear in more than one category.

However, if you like his style, he will also do customer work, starting at $350 per cover.
This site has about 100 pre-made covers at $99 each, not categorized by genre. They also offer custom cover design starting at $350 per cover and professional book editing and formatting services.

They're a member of The Alliance of Independent Authors and have won numerous ebook cover design awards.
More than a hundred pre-made covers, in five categories including fantasy and paranormal. There are no separate sci-fi or horror categories.

Designed Bailey McGinn is originally from Nova Scotia but now lives in Paris. She has degrees in both literature and graphic design, and is particularly good at illustrated covers. She also does custom design work. She is not currently accepting new clients, but does have a waiting list you can join.
More than a hundred pre-made covers in eight categories, including sci-fi and fantasy and horror.

Some covers are as low as $50, but most range between $100 and $150.
Designer Teresa Conner is also the lead graphics designer at BookBrush — and she herself writes erotic romance, so she'd know that particular genre well. Custom covers start at $300 and include three revisions, 3D mockups, and promotional graphics.
Over a hundred pre-made covers in fiction and non-fiction categories, starting at $149.

Custom covers also available, starting at $349, as well as other marketing and promotional materials.
This studio has over 100 pre-made covers nicely sorted into about 20 categories including sci-fi and fantasy. Prices start at $76.

The $76 price is for non-exclusive designs — other authors might use the same cover. Exclusive covers start at $99. Additional services also available, including print copies, 3D mockups, and social media banners.
Custom covers start at $352.
Dozens of premade book covers in five categories, including sci-fi and fantasy and horror.

Covers are $69 each, or $207 for a three-book set. Custom covers are also available, with prices starting at $99 for an ebook cover, and $209 for both ebook and paperback versions.
They also offer marketing packages starting at $69 with Facebook covers, Twitter headers, cover reveals, and ad banners.
This design studio has a few dozen pre-made covers, categorized by genre including fantasy and sci-fi, with prices starting at $89.

The pre-made cover price includes basic editing, like changing the font, adjusting colors, or moving the text.
Custom covers start at $275. The studio also offers audio book covers and promotional and marketing materials.
Portugal-based artist Diana Toledo Calçado has more than a dozen pre-made covers available, ranging at $85 to $300 in price.

The artist specializes in covers for fantasy, paranormal, romance and suspense novels. Other services include custom illustrations, marketing materials, and book formatting.
Custom book designs start at $230.
Baki Boquecosa specializes in science fiction and fantasy. He primarily does custom work, but has a couple of dozen pre-made covers on his site.

He gets a lot of industry recognition. However, there are no prices shown on his site.
There are a handful of pre-made custom covers on this site, priced at $195 image, but are extremely high-impact.

The site doesn't make it easy to purchase the covers, however. It looks like you have to contact the designer directly.
This design studio mostly focuses on custom covers, but they do have a few pre-made covers to choose from, starting at just $50.

For custom design, a basic book cover with one revision is $200. Additional services include print and audiobook covers, marketing materials, and book trailers. They're currently booked until the end of October.