Reading Time:
3
minutes
Some articles may include Amazon affiliate links. All proceeds go to helping us pay for original stories and to support writers of speculative fiction. Read more here.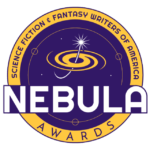 New and emerging writers as well as some familiar names received the recognition they were due this month at the 2022 Nebula Awards, awarded by the Science Fiction and Fantasy Writers of America, which includes science fiction and fantasy novels, novellas, short stories, and games.
The full ceremony is on the SFWA's YouTube page,
The full list of finalists is here.
The winners are as follows:
Best Novel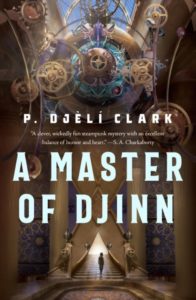 P. Djèlí Clark's A Master of Djinn, published by Tor.com and Orbit UK, follows Fatma el-Sha'arawi, a young woman working for the Ministry of Alchemy, Enchantments and Supernatural Entities, in Cairo, Egypt, 1912.
She pursues a case in which a man who claims to be the one who broke the barriers between the physical and magical world murders a member of a secret society founded in his honor.
This book made NPR's top 100 science fiction and fantasy books of the last decade.
P. Djèlí Clark also won the award for best novella for Ring Shout in the 2021 Nebula Awards.
Best Novella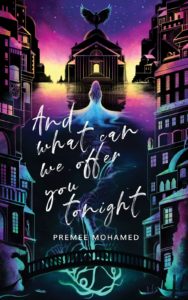 Premee Mohamed's And What Can We Offer You Tonight, published by Neon Hemlock, takes place in the distant future, where a powerful couple commands the House of Bicchieri, a courtesan service where the deepest, darkest desires are satisfied.
When the best friend of Jewel, one of the courtesans, is murdered, then comes back to life, Jewel must balance her friend's desire for revenge with keeping her head low at the House.
The average score on goodreads.com is 3.89 stars. Read an excerpt here.
Best Novelette
O2 Arena, written by Oghenechovwe Donald Ekpeki, published by Galaxy's Edge (not to be confused with Star Wars: Galaxy's Edge), not only won the Nebula Award, but was also nominated for a Hugo Award and a BSFA award.
The story takes place in the future where, according to The Book Publishing School, "breathing itself has a cost, and people willingly fight to the death for a little extra oxygen." T
Best Short Story
Where Oaken Hearts Do Gather by Sarah Pinsker, was published in Uncanny Magazine Issue Thirty-Nine. Pinsker also won the Nebula for her novelette "Two Truths and A Lie" in 2021.
The Andre Norton Nebula Award for Middle Grade and Young Adult Fiction
Darcie Little Badger draws from her Lipian Apache heritage in A Snake Falls to Earth, published by Levine Querido, in which a young Lipian girl, Nina, forms a friendship with Oli, who is from the land of spirits and monsters.
This work includes queer representation and addresses the ever-looming climate emergency.
The Ray Bradbury Nebula Award for Outstanding Dramatic Presentation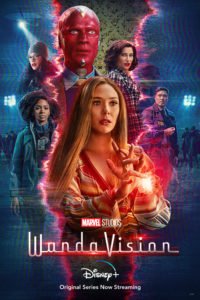 WandaVision follows Marvel Avengers Wanda Maximoff (Elizabeth Olsen) and Vision (Paul Bettany) in the town of Westview, New Jersey, in this parody of classic sitcoms and cosmic chaos.
The show was created by Jac Schaeffer, with writing credits to Peter Cameron, Mackenzie Dohr, Laura Donney, Bobak Esfarjani, Megan McDonnell, Jac Schaeffer, Cameron Squires, Gretchen Enders, and Chuck Hayward.
It is available on Disney+.
Best Game Writing
The title Thirsty Sword Lesbians by Evil Hat Games says pretty much everything that needs to be said about this game book specifically written to tell "queer stories with friends."
The game was written by April Kit Walsh, Whitney Delagio, Dominique Dickey, Jonaya Kemper, Alexis Sara, and Rae Nedjadi.
The Damon Knight Memorial Grand Master Award
Mercedes Lackey has written over 140 novels, including fantasy, which are known for their "magic-wielding queer heroes, and characters who suffered, then overcame their physical and emotional traumas," said SFWA President Jeffe Kennedy.
However, the ceremony was marred when Lackey misspoke during a panel while praising writer Samuel Delany and she was removed from the conference.
Lackey apologized immediately after, and Delaney himself did not take offense at her comment, so the SFWA's actions garnered a bit of controversy.
You can get the full list of winners here or watch the awards ceremony below: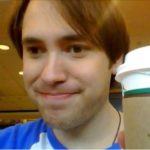 Terrence J. Smith is MetaStellar's assistant fiction editor. He has contributed his writing to nonprofits and both print and digital publications. He enjoys all things technology, but remembers to meditate and appreciate the outside world.